Programmers.io Cloud Services
We provide cost-effective, robust, and powerful Cloud Services to complement your development strategy. Our dedicated programmers work closely with your team to achieve your goals.
Custom Cloud Applications
Our team of developers specializes in crafting tailor-made cloud applications that cater to the unique needs of your business. This tailored approach ensures that the applications are customized to resolve your specific requirements and challenges. Additionally, our cloud applications can be conveniently scaled up or down, as per your business demands.
Cloud Migration and Integration
Benefit from the versatility of cloud servers, which allow for seamless access to applications and data as well as enhanced team collaboration. Our certified experts possess significant expertise in migrating systems to the cloud, ensuring that your business operations remain uninterrupted. Rest assured that your data is protected throughout the migration process and beyond.
Cloud Consulting Services
Our cloud consulting service grants you access to a team of proficient and seasoned professionals who can assist in maximizing your cloud usage while minimizing costs. In addition to optimizing cloud resources, our team can also offer expert guidance on implementing stringent security measures to safeguard your data.
Cloud Data Management
Our team of skilled professionals can seamlessly migrate your data to the cloud, enabling collaboration among your staff on a secure and dependable platform. In addition to facilitating data sharing, our cloud data management team provides reliable backup and recovery solutions, ensuring that your data is well-protected and easily recoverable in case of any disaster or data loss.
Cloud Security
Our proficient developers offer a range of security measures, including multi-factor authentication, encryption, and continuous monitoring, to enhance the security of your data and applications and protect them from unauthorized access. Moreover, we ensure that your security processes comply with regulatory standards such as PCI DSS and HIPAA.
Cloud-Enabled App Development
By leveraging cloud resources in an efficient manner, our team of proficient developers can aid businesses in reducing their costs. Our agile development methodologies empower businesses to promptly roll out new application features and updates, which facilitates easy and efficient addition of new functionalities.
Programmers.io Cloud Ecosystem
Cloud computer stack has three main models. Each represents a different part of the cloud computing stack.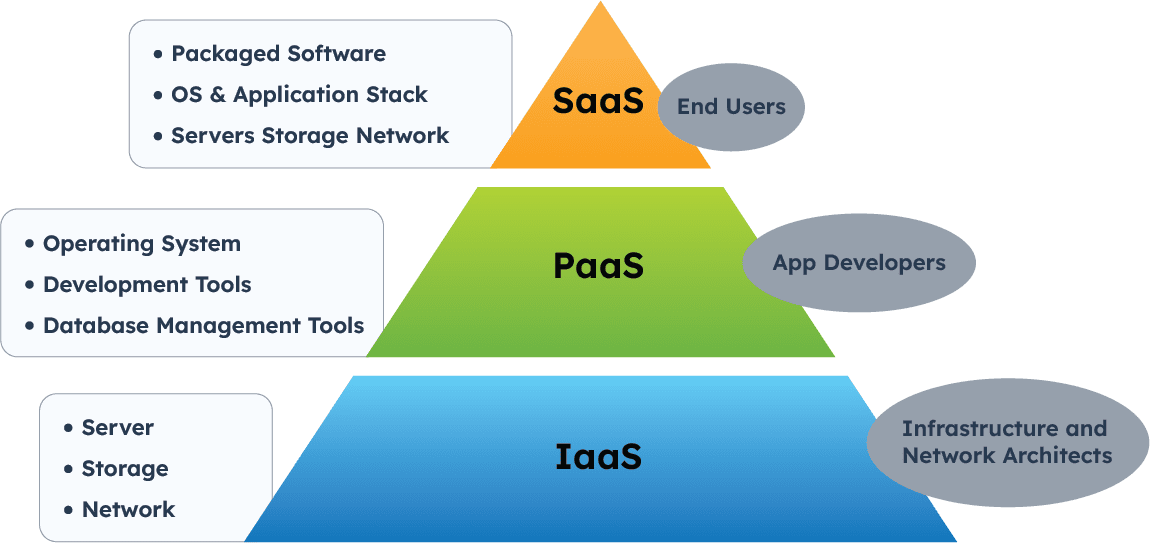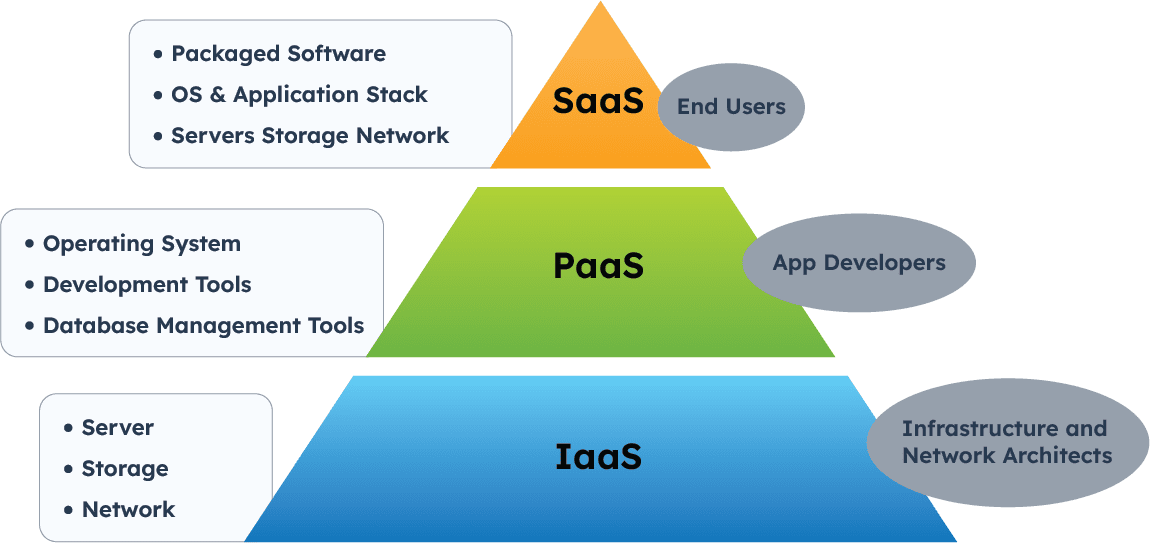 Package Breakdown
SaaS
We support and maintain your software applications in the cloud so they can be accessed anywhere you can log in. This keeps company costs low while ensuring your software is always up-to-date.
PaaS
We offer Platform as a Service to provide everything developers need to build, run, and manage applications, from servers and operating systems to all networking, storage, libraries, framework, and development tools.
IaaS
Our Infrastructure as a Service enables us to provide our customers with basic computing, networking, and storage resources to the extent they want them delivered. This economical process allows end users to scale and shrink resources as needed.
Why Move Your Business into the Cloud?
With cloud computing, businesses can leverage various computing resources, such as Infrastructure as a Service (IaaS), Software as a Service (SaaS), and Platform as a Service (PaaS). Here are some advantages of partnering with Programmers.io for cloud technology:
With cloud computing, businesses can leverage various computing resources, such as Infrastructure as a Service (IaaS), Software as a Service (SaaS), and Platform as a Service (PaaS).
Here are some advantages of partnering with Programmers.io for cloud technology:
Expertise: At Programmers.io, our cloud developers have in-depth expertise and significant experience in creating cloud-based solutions. This enables us to develop tailor-made applications that are robust, scalable, and secure, aligned with your specific business needs.
Time-saving: Developing a cloud-based in-house solution can consume time and resources. However, with Programmers.io, you can offload this responsibility and focus on other essential business activities, freeing up your internal resources.
Cost-effective: Outsourcing cloud development can be a cost-effective solution for many businesses, as it can help reduce expenses associated with hiring and training an in-house team.
Flexibility: Cloud-based solutions can be easily scaled, making them adjustable to suit the requirements of any business. Engaging Programmers.io ensures the flexibility required to accommodate your evolving business needs.
Security: Ensuring the safety of business data is critical for cloud-based solutions and requires a high level of protection. Programmers.io can add comprehensive security measures to ensure that your cloud solution complies with industry standards, protects against cyber threats, and safeguards your business data.
Cloud Technologies Programmers.io Supports
Modern Platform Technologies
Amazon Web Services (AWS)
MS Azure
Google Cloud Platform (GCP)
Salesforce
Dot Net
PHP/ MYSQL / Json
Angular
React.Js / Ext Js
IOS/ Android
Java/ others
See Your Project Take Flight
We Support Legacy
& Modern Platforms
Developers for both legacy and modern platforms
See Technologies
Certified SMEs with access to knowledgeable support staff
Remote support in a variety of time zones
Performance
Guarantee
Try us for 90 days
No startup costs or upfront fees
You will not be invoiced if you are not happy with our work
Transparent
Billing
Fixed monthly pricing
No hidden fees
No long-term contracts
Testimonials
"We find your team to be true business partners. Exceptionally responsive, strong domain knowledge, and outstanding at execution."
Chief Integration Officer
"Happy with the performance. The team is self-driving, which is something I've had struggles with in the past. Very knowledgeable on the IBMi and requires minimal guidance."
Director of Information Technology
"Every developer we have worked with has been great! They are great at analyzing and making great suggestions, in addition to coding all that we ask for. Even with the time difference, they are always willing to work on "our hours" when needed for deadlines and projects as needed. Thanks for everything!"
Chief Information Security Officer
"The programmers I have worked with have all been great! They think out of the box and make suggestions, and they research and figure things out on their own, which is a tremendous help to me. I would recommend them to any prospective clients you have."
Project Manager
"Great team and still one of the best I've worked with on the IBMi/RPG environment"
VP, Commercial Excellence & Digitization
Video Testimonials
Effectively Extending
Your Team
Ken Stewart, PMP, CSM
Vice president of operations & Engineering
PSigen Software Inc.
Play Video
Video Testimonials
Onboarding The Programmers.io Team
Brandy Churchill
Software Development Manager
Western National Insurance
Play Video
Video Testimonials
Effectively Extending
Your Team
Jackie Flummer
Director, Technical Business Systems
AmerCareRoyal
Play Video
Video Testimonials
Effectively Extending
Your Team
Luis Gonzalez
President
SalesScoreKeeper
Play Video
Awards and Certifications
Our programmers are well-versed in all the latest versions and libraries. We can
help your business integrate technologies no matter your requirements.