IBM i Internship Program
2023
Teaching IBM Power skills in a free online IBM i Internship Program for university students and IT professionals around the world.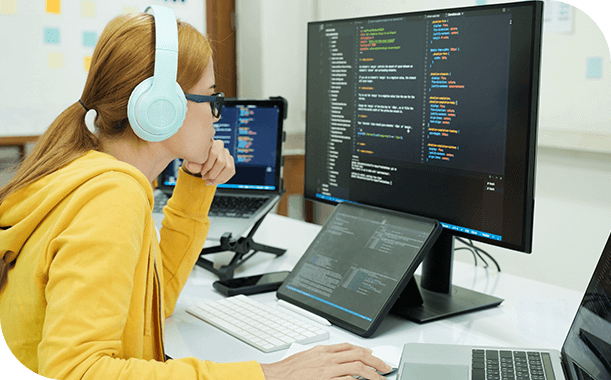 Discover the Power of IBM i Technology: Join Programmers.io's Three-Month Internship Program.
Unlocking the expertise of our seasoned developers, this program is designed to bridge the gap between academic knowledge and practical industry demands. Over three months, you'll acquire invaluable skills and hands-on experience that will empower you to excel in your programming career.
But that's not all…
The Programmers.io Internship Program provides exceptional networking opportunities. Collaborate with industry professionals, forge connections that can pave the way for future career growth, and tap into a vibrant community of like-minded individuals who share your passion for programming.
"Nirmal and his team are propelling Programmers.io's vision forward, strengthening our commitment to serving our community. Our IBM i Internship Program is thoughtfully designed to provide students with not just learning but deep understanding, immersing them in the world of IT. Our ultimate goal is to shape the leaders of tomorrow, equipping them with the skills and knowledge to build successful careers in the ever-evolving IT field."
–Anshul Choudhry, Founder and President of Programmers.io
Who Benefits from the Internship Program?
College and University
Students!
The IBM i platform has existed for a long time, but developers are retiring and leaving companies high and dry with a tremendous labor shortage. This program gives students hands-on exposure to working on IBM's iSeries platform while networking with innovative, experienced developers.
Developers in the
Field!
This program introduces participants to countless processes, shortcuts, and tips for working on the iSeries platform. The valuable libraries and apps presented will help companies modernize their legacy IBM systems seamlessly and cost-effectively.
Companies on the
Frontline!
This free program doesn't just expose the next generation of interns to iSeries technology but also creates a well-trained resource on a system you use. Participants work on real-world projects that can be added to your system to improve efficiency and minimize costs.
"Connecting up-and-coming academic talent with business needs is essential for those in the IBM i/ iSeries community. Our internship program aims to offer students hands-on experience working on real-world projects, bridging the gap between academic learning and industry requirements."
– Kip Kugler, Senior Vice President of Sales
Key Features of the Programmers.io IBM i Internship Program
Comprehensive
Curriculum
Hands-on
Projects
Industry
Networking
Online
Format
Collaborative
Environment
The program provides a thorough and well-organized curriculum that covers multiple aspects of IBM i technology. The classes include programming languages, database management, system administration, security, and other relevant topics. Industry experts and experienced professionals will guide and support participants throughout the program.
Individuals can engage in real-life projects while receiving guidance from seasoned experts, resulting in a hands-on and pragmatic learning experience. This approach will allow them to apply and enhance their knowledge and competencies in a practical way.
An integral part of the program is enabling participants to connect with industry professionals and leaders. Consistently participating in networking sessions and industry talks helps interns broaden their professional network and acquire valuable insights.
With its flexible online format, the internship program allows participants to access the learning materials and engage in coursework at their convenience. This format lets students balance their academic commitments while gaining valuable experience through the program.
A collaborative online platform allows participants to connect with fellow interns, ask mentors for advice, and participate in discussions. As a result of this interactive environment encourages discussions and knowledge sharing, ultimately fostering a strong sense of community among participants.
"This program offers students a valuable opportunity to enter the thriving field of IT with practical experience in the IBM i/iSeries platform."
–Nirmal Khatri, Vice President of Technology
Why is an IBM i Internship with Programmers.io
Important for Your Career?
FOR SEVERAL REASONS, an IBM i internship can be immensely valuable for your IT career.

Practical Experience
Interning with Programmers.io allows you to gain hands-on experience with an IBM i technology stack widely used in many industries. This valuable knowledge will enhance your technical skills and make you more proficient in working with IBM i systems.

Specialized Skillset
The IBM i platform requires technical skills with its unique programming language RPGLE and associated technologies. By completing an IBM i internship, you can develop expertise in this niche area, making you a valuable asset to potential employers who rely on IBM i systems.

Industry Relevance
IBM i systems continue to play a significant role in many businesses, especially in sectors like finance, manufacturing, and healthcare. By enrolling in our IBM i Internship Program, you acquire expertise in a technology that is in demand, making you a valuable asset to potential employers.

Networking Opportunities
During your internship, you will have the chance to connect with professionals already working in the IT industry, including experts in IBM i systems. Building a network of contacts can open doors to future job opportunities, mentorship, and collaboration.

Career Advancement
An IBM i internship can be a stepping stone to future career advancement. By showcasing your skills, dedication, and knowledge in IBM i development, you increase your chances of securing full-time employment or higher-level positions within organizations that rely on IBM i technology.
Choose Programmers.io for your IBM i Internship
There is a great demand for IBM i specialists in the job market, and Programmers.io is an excellent workplace that attracts top-notch talent.
With over a decade of experience, we have emerged as industry leaders in this field. Our team of IBM i and RPGLE experts is the largest worldwide, making Programmers.io a hub for expertise. We focus on recruiting exceptional developers and prioritize nurturing the next generation of programmers, helping them unlock their full potential.
Ready to Get Started?
This is a three-month commitment with a 3-4 hour weekly commitment.
You need computer access with a high-speed internet connection.
Use this form to hold your spot in the class. It fills up fast.
Don't miss out! No fees are required, but the opportunity is priceless!
Additional Resources
Join us for our weekly Lunch and Learn or our US and Canadian-based Brunch and Learn to hear from experienced professionals worldwide.
Stay current, post questions, or join the forum on Code400.com, where real-time developers discuss real-time problems and concerns.
Join Nirmal and the team on our YouTube Channel as he shares previous training and more.