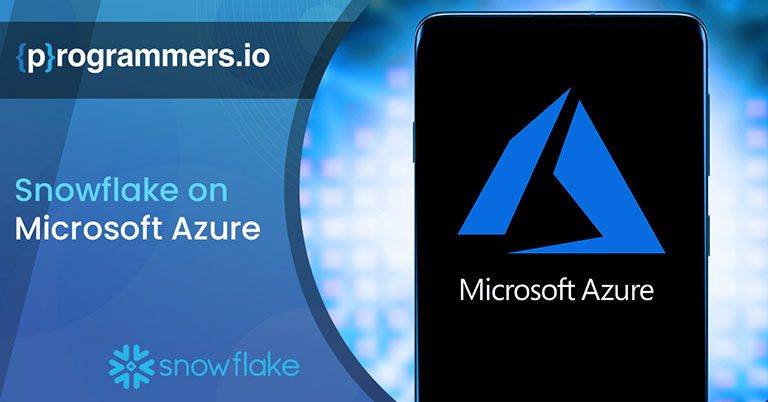 The Use of Snowflake on Microsoft Azure
Organizations are rapidly moving to the cloud and are focusing on moving their data in a transparent manner without any glitches in the process. While moving to the cloud can be simplified through different techniques, it is definitely not the solution to your digital transformation. Most digital data managers operate under the misconception that moving to the cloud will signal an end to all their data-related problems. However, this isn't true. Once you do move to the cloud, you have to oversee data analytics and ensure that you derive intelligent decisions from your data and work on insights.
Most business owners are often faced with the conundrum of picking a reliable Platform as a Service or Software as a Service solution to help with data analytics. The fact is that not all businesses will find the same solution helpful. Different businesses have different data needs and one solution cannot prove to be effective across all scenarios.
In this article, we take a look at Snowflake, which is a Data Warehouse as a Service platform, and how it helps with analytics on Microsoft Azure. Snowflake has a slightly different data architecture model than SQL and Redshift. Stay with us as we look at the difference and explore the solutions.
How Does Data Integration on Snowflake Work?
The rise of Big Data has significantly altered the way businesses work on insights. With data coming in from a wide range or sources, enterprise data can get lost in the different data subsets. A typical organization has data coming in from the internet, IoT networks, mobile apps, point-of-sale transactions, and other consumer touch points.
Data integration is hence the process of combining and collecting data from all these diverse sources and presenting it in a consolidated manner. This allows businesses to deliver all information that is valuable and important in the long run.
The data integration process is based on the simple ETL formula. ETL, which is the abbreviation of extract, transform and load, talks about the convergence of data across different transformation and reporting tools.
Snowflake is an immediate part of the data integration process and can help improve the analytics and end results. Snowflake data warehouse helps organizations in the following ways:
Security with data protection: Snowflake provides additional security with data protection. All of SSO, MFA, Google Cloud Storage access, and Amazon S3 policy controls are part of the security process.
Standard SQL Support: All of the transactions and data sources come with SQL support.
Data Import with Export: Snowflake allows users to import and export data through extensive measures.
Data Sharing; Data present in your warehouse can easily be shared around with other users through the simple processing option of Snowflake.
Reasons You Can Count on Azure Snowflake
We understand the cognitive dissonance that comes with moving to a new analytics platform for the cloud. We now look at some of the reasons why you should rely or rather count on Azure snowflake for the desired results.
Shared Architecture with Multiple Clusters
Azure Snowflake is a coming-of-age solution and comes with a modern warehouse structure that is secured. The structure allows you to scale your resources up and down based on what best works for you. The management solution can help you generate insights and generate actionable results while accessing the same copies of the data in multiple clusters. The payment model only requires you to pay for what you consume rather than the service as a whole. This can work well for small businesses.
Secure Collaboration and Sharing of Data
Another reason why you can rely on Snowflake is because it provides a secure collaboration solution with data sharing allowed. The platform allows you to share huge chunks of structured and unstructured data. The sharing potential can result in the reduction or total elimination of static data. You can now seamlessly manage data around the clock and monetize the data for future growth.
Low Maintenance
You can rely on Snowflake because of its low-maintenance model. Snowflake allows you to choose from a number of different infrastructure providers. This can help you manage your workloads in the best manner possible. Snowflake can also be used across different countries and cloud solutions.
Benefits of Azure Snowflake
Azure snowflake comes with a ton of benefits, which can significantly help improve operational efficiency. These benefits include:
Easily Manage Data Workloads: Snowflake can easily create and manage data workloads for you. Microsoft Azure allows you to reduce the time it takes to generate value from a project and integrate it into your organization.
Make Analytical Decisions: The insights you generate from your data sources are meant to help you take key business decisions. Your data warehouses provide deep knowledge of the scalability and strategic needs of the businesses and can be used to make actionable decisions. Business intelligence is based on data and Snowflake can provide you with the platform you need to drive future success.
Secure Access to Enterprise Data: Snowflake doesn't just help you store your data in a proper manner but also provides secure access to your enterprise data. The data can be used for future insights and can be used to solve key business decisions. You can now consume shared data and provide access to the proper individuals.
Snowflake is a successful data warehousing solution that allows you to move toward the cloud in a proper manner. We have looked at the benefits of using Snowflake with Azure and hope our readers can use them to have a good impact.