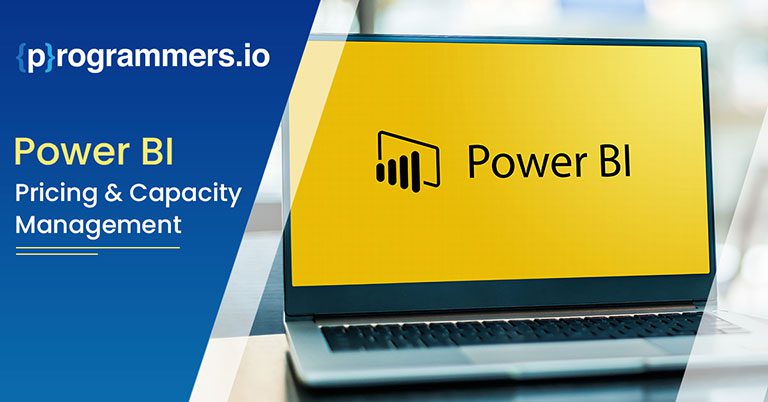 Your Guide to Power BI Pricing and Capacity Management
Power BI by Microsoft is a premier business intelligence tool that offers exceptional flexibility in the form of data modeling, visualization, and limitless analytics. It is a proven fact that your data and collection procedures will only be as successful as the insights you generate through them. Power BI creates a licensing solution for businesses to follow in today's complex business environment.
Business intelligence insights, programs, and solutions are becoming more comprehensive and result-oriented with the passing day. What this means is Power BI now faces critical questions regarding the pricing and capacity management of the solution.
In a bid to educate our readers and to help them with one of the most common problems they face today, we have come up with a dedicated guide on Power BI and the pricing and capacity management options available on the platform. In this article, we look at the pricing plans for Power BI along with the capacity management options available to users. Stay with us as we run you through the solutions.
Capacity Management
Power BI by Microsoft provides all users with three types of service models for capacity management. The three tiers include Premium, which is the most expensive layer, Pro, and Free. We discuss each tier in brief detail below to give you an idea of what is offered:
Free Power BI layer for Creating Content: The first tier provided by Power BI is free for users and is ideally meant for content creation. The free power BI solution is used to prepare audits, author reports, create data visualizations, and prepare models.
Power BI Pro for Publishing Content: The second tier available for users is Power BI Pro. The Pro service is ideally meant for content publication. The Pro tier allows users to collaborate and connect with colleagues, author new content, model data, publish reports, share the dashboard with each other and perform an emergency ad hoc analysis when and where required.
Power BI Premium Service for Consumption: The Power BI Premium account is meant to help users read and interact with each other.
Is Power BI Free to Use?
One of the most common questions most users have before using Power BI is whether it is free to use. Interestingly, Power BI does have a free version, which doesn't cost you a buck. However, the free version of Power BI is very basic and comes with limited utility in comparison to the other versions.
The free version is best for individual use and doesn't offer a query option. The free version only includes one limited refresh per day without the ability to actually collaborate and share resources with your team.
What is Power BI Pro?
Moving onwards, Power BI Pro is the most used and successful Power BI option. The option allows you to collaborate and share your reports with multiple end users across the organization and generate actionable insight from the resource. Unlike the free version of Power BI, the Pro version allows you to publish reports on and through the service.
A Pro Power BI license is absolutely necessary to publish reports, even if you have a Premium license available to you. Power BI has come a long way during the last few years and is currently rated among the best solutions for Power BI management.
Comparing Power BI Pro with Power BI Premium
A Power BI Premium account stands out because of the dedicated storage capacity provided to all users. In the Pro account, users are expected to pool their storage needs together with other individuals and get slower speeds when warehousing.
Power BI Premium includes a maximum data set of 12 GB along with over 48 data set refreshers each day. The solution also provides advanced solutions with enhanced cognitive learning, deployment pipelines, and automatic refreshes. The server is trusted and gives the best possible results.
Power BI Premium comes with the following features for your organization;
Performance Improvements to help expand resources and run a substantial Power BI service.
Power BI Report Server to help generate reports and solve problems on the premise.
Data sharing with users without acquiring a data sharing
Regional support for multiple geographic data residencies.
Power BI Report Server gives you the luxury to extend your current on-premise BI
A Power BI Pro license is needed even if you have a Power BI Premium license with you.
Common Questions Related to Power BI
Developers and organizations have a number of questions in mind when it comes to using power BI. We now take a look at some of the common questions our customers ask and answer them for you.
When is Power BI Required?
Power BI Pro works perfectly fine to give you optimal BI capabilities. All of your organizational users can use the capabilities to their full impact and run ad-hoc analysis through the solution. The dashboard can be shared with others and all reports are corroborated across the team.
How Important is Self-Service BI?
Self-service is no longer a luxury and is now a necessity. Self-service BI helps with sharing information across the organization and allows various personnel to publish, collaborate and share content with each other. Advanced BI tools can open doors to the future of business intelligence.
We have looked at Power BI in detail within this article and have also shared capacity management plans and pricing strategies. We hope you know more about the self-service solution and can implement it within your company for analytics.