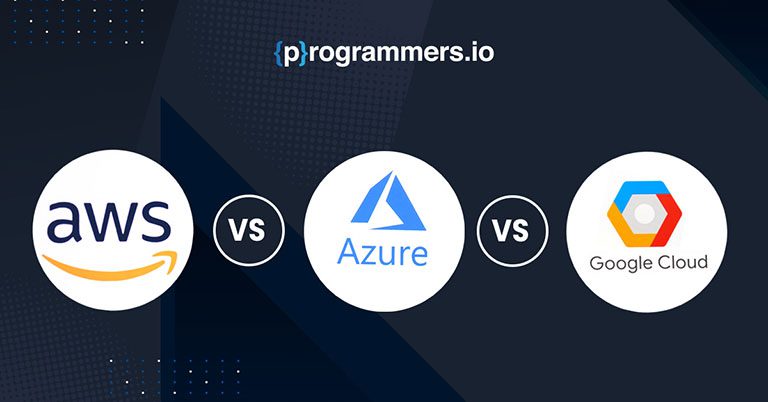 AWS vs Azure vs Google Cloud: Comparing Cloud Services
Cloud computing has come a long way since it was first marketed to web companies and solution providers. Service providers and businesses are no longer concerned about whether they should opt for cloud services or not. However, they are now concerned about which one of the three major public cloud service providers to choose from.
Azure, AWS, and Google Cloud Platform are all known for their excellent services and stand out among the top service providers. In this article, we look at the different cloud service providers available to customers today. We study the different metrics involved in the process and look at the benefits of a move to each of these service providers.
AWS vs Azure vs Google Cloud: Services Offered by Each Provider
All of Azure, AWS, and Google Cloud offer multiple services to keep users hooked and engaged. AWS has a head start of 5 years, which is why it is the most technologically equipped among all service providers.
AWS offers more than 200 services to all users, Azure offers a staggering 100 plus services, and Google Cloud offers around 60 plus services.
The services provided by all include:
Computer Services
Database Services
| | | | |
| --- | --- | --- | --- |
| Services | AWS | Azure | GCP |
| RDBMS | Amazon Relational Database Service | SQL Database | Google Cloud SQL |
| NoSQL: Key–Value | Amazon DynamoDB | Table Storage | Google Cloud Datastore Google Cloud Bigtable |
| NoSQL: Indexed | Amazon SimpleDB | Azure Cosmos DB | Google Cloud Datastore |
Storage Services
| | | | |
| --- | --- | --- | --- |
| Services | AWS | Azure | GCP |
| Object Storage | Amazon Simple Storage Service | Blob Storage | Google Cloud Storage |
| Virtual Server Disks | Amazon Elastic Block Store | Managed Disks | Google Compute Engine Persistent Disks |
| Cold Storage | Amazon Glacier | Azure Archive Blob Storage | Google Cloud Storage Nearline |
| File Storage | Amazon Elastic File System | Azure File Storage | ZFS/Avere |
Networking Services
| | | | |
| --- | --- | --- | --- |
| Services | AWS | Virtual Networks (VNets) | Virtual Private Cloud |
| Virtual Network | Amazon Virtual Private Cloud(VPC) | Virtual Networks (VNets) | Virtual Private Cloud |
| Elastic Load Balancer | Elastic Load Balancer | Azure Load Balancer | Google Cloud Load Balancing |
| Peering | Direct Connect | ExpressRoute | Google Cloud Interconnect |
| DNS | Amazon Route 53 | Azure DNS | Google Cloud DNS |
AWS vs Google Cloud vs Azure: Availability Areas
AWS was the first out of all cloud service providers to make an entry into the public cloud service field. Obviously, since they have the first movers' advantage, AWS has the best availability across all three service providers.
AWS has had more time to not only establish its footing in the industry, but also to move toward greener pastures. AWS is currently providing cloud services in multiple locations across the globe.
Azure and Google Cloud Services are also hosted in multiple locations across the globe. AWS has almost 66 zones working around the globe, with 12 more zones expected to come out soon.
Azure, on the flip side, has zones in 54 regions in the world and services some 140 countries. Google Cloud Services are also growing with time, with some 20 regions and zones currently available. Google is expected to add some 3 more zones with time.
Azure vs AWS vs Google Cloud: Market Profitability and Current Growth Rate
In a recent study released in 2021, the profitability and current revenue rate for Microsoft Azure has outperformed both Google Cloud and AWS. AWS is present all over the globe, but Azure has left the company behind when it comes to generating revenue.
The commercial revenue for Microsoft was rated at $17.7 billion for Azure in 2021. AWS recovered a revenue of $13.5 billion for the same period, while Google Cloud reported a modest revenue of $4.05 billion during this period. This research goes to prove that Microsoft Azure is currently earning more than AWS and Google Cloud combined. Additionally, the growth rate of 50 percent for Azure is also better than that of AWS and Google Cloud.
AWS vs Azure vs Google Cloud: Key Tools
We now look at the support provided by all these three providers for recent technologies.
Key Tools Offered by AWS
We begin our research by looking at the key tools offered by AWS. AWS offers a verified list of AI and machine learning services. AWS is known to be the brains behind DeepLens, which is an AI-powered camera for developing pictures and recording information. The camera/lens can be used to record information and recognize objects. Additionally, AWS has also started work on Gluon, which is a library that can build and complete neural networks without prior knowledge.
AWS has also started work on SageMaker, which is a machine learning technology that can help train and implement models.
Key Tools by Azure
Azure has a number of key tools as well. Azure Backup links your Windows Server Backup with Windows Server for better backup management. Additionally, Azure has also heavily invested in AI and machine learning. Cognitive services provided by Azure include Bing Search API, Face API, Custom Vision Service, Text Analytics API, and Computer Vision API. Additionally, Azure also provides feasibility for IoT.
Google Cloud Tools
Google Cloud provides decent support for IoT with natural language and speech translation APIs available. Google Cloud is also working on TensorFlow, which helps in AI development and deployment.
We have looked at all three major service providers in detail, and hope you are able to pick the right fit now. Make your transition to the cloud as easy as possible, by choosing the right service.