Hire Vetted Programmers.io AS400/IBMi Developers
Programmers.io helps customers modernize IBM iSeries (AS/400, System i) applications to web-based applications. We can help to convert green screen UI to GUI-based UI by retaining existing business logic. We help businesses to improve their front-end and increase user-friendliness. We help our customers to retain their value while modernizing their legacy applications and interfaces to better meet today's business challenges.
Our AS400/IBMi Modernization services include:
UI modernization and enhancements
Application support services
Database modernization
Application modernization
24/7 support services worldwide
IT planning
Modernization Options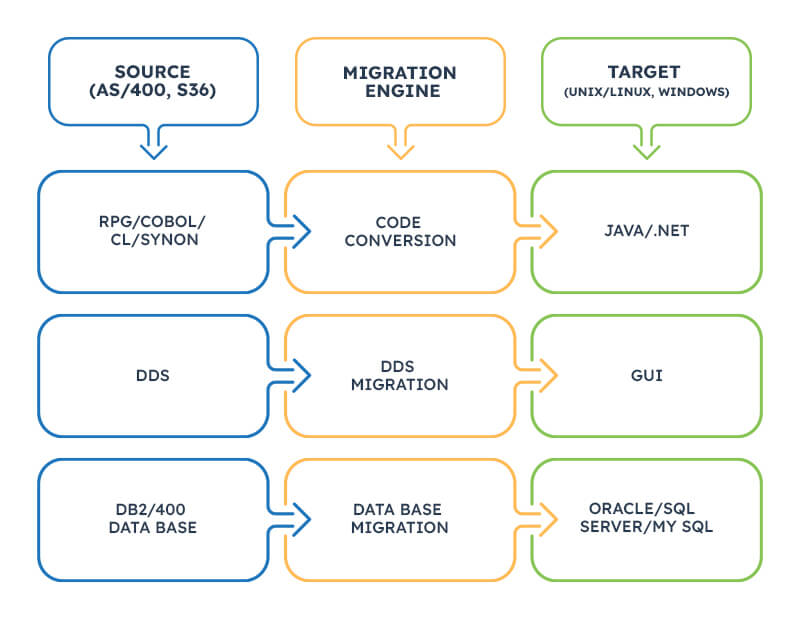 Modernization Options
Re-facing – Retaining business logic as is, and adding Web GUI to existing applications in the front end.
Re-engineering – Enhancing existing applications and interfacing with modern applications.
Replacement – Replacing existing AS400 based applications with newer applications on more modern platforms, based on Java, Microsoft .NET, PHP, or any open source technology.
Why AS400/IBMi Development For Your Project?
If there were a Mad Men show for technology, it would be about IBM's AS/400 systems and RPGLE language. Conceived in the 1950's, IBM technologies dominated manufacturing and information technology to such a degree that almost 30,000 companies
If there were a Mad Men show for technology, it would be about IBM's AS/400 systems and RPGLE language. Conceived in the 1950's, IBM technologies dominated manufacturing and information technology to such a degree that almost 30,000 companies still maintain hardware and software related to IBM i Series, AS/400, SMART400 and RPGLE.
While some companies have retired AS/400 and IBM i Series, others retain it, for good reasons. First of all, the work of moving from a legacy system that's been around since the 1950's is an upheaval that requires choosing a new platform, installing and implementing new software, then auditing and updating data. The Mad Men of IBM's AS/400 and the IBM i Series built a system that works like a tank with all of its redundancies, like a Mack truck with its power and performance– CPUs that are 3-5 times more powerful than competitors- as well as like a high speed train. IBM i technology can be scaled, with excellent small starter systems for mid-sized enterprises to powerful large servers and systems for large size enterprises. Plus it supports multiple operating systems.
Chances are, if your company needs IBM i developers, it's because you trust your system, but you need to integrate ERP, cloud solutions, EDI, API, and frameworks to improve UI. The rub is finding AS/400 RPGLE programmers. The age of the IBM i systems means most of the hotshot developers retired, while younger developers trained in cloud solutions, the latest database management, and ERP/EDI/API/UI technologies.
Our AS/400/IBM iSeries programmers are specially trained professionals to use the RPG programming language to manipulate and solve current systems issues, including cloud computing, database management and development, and hardware solutions.
Our programmers create codes that can be integrated into business operations in order to ensure a higher level of efficiency. On any particular day, our RPG programmers generate new code, maintain and update existing code programs and help you with analysis, design, development and maintenance of your IBMi systems. Our programmers work with RPG, RPG ILE, RPG-FREE, and SQL. They are experts in JD Edwards Cloud solutions, EDI integration, Prism ERP, and Smart400 for fintech, B2B operations, e-commerce, and more.
Our developers draw from a wide variety of tools and technological expertise. They follow functional specifications in order to create technical documentation and develop pseudo codes, strengthen your existing code or troubleshoot your business processes to diagnose where the issues are. They will help your enterprise modernize legacy code, integrate your ERP or EDI solutions, as well as develop and maintain applications. If you need support for existing software, they can help debug, locate and solve issues.
AS400 Modernization Tools Programmers.io Supports
LANSA
Visual LANSA(Tool for Web Application Development)
LANSA Ramp
aXes LANSA(Tools for Application Modernization)
Open for .Net
ASNA
ASNA VRPG
ASNA Wings
ASNA Monarch
See Your Project Take Flight
We Support Legacy
& Modern Platforms
Developers for both legacy and modern platforms
See Technologies
Certified SMEs with access to knowledgeable support staff
Remote support in a variety of time zones
Performance
Guarantee
Try us for 90 days
No startup costs or upfront fees
You will not be invoiced if you are not happy with our work
Transparent
Billing
Fixed monthly pricing
No hidden fees
No long-term contracts
Testimonials
"We find your team to be true business partners. Exceptionally responsive, strong domain knowledge, and outstanding at execution."
Chief Integration Officer
"Happy with the performance. The team is self-driving, which is something I've had struggles with in the past. Very knowledgeable on the IBMi and requires minimal guidance."
Director of Information Technology
"Every developer we have worked with has been great! They are great at analyzing and making great suggestions, in addition to coding all that we ask for. Even with the time difference, they are always willing to work on "our hours" when needed for deadlines and projects as needed. Thanks for everything!"
Chief Information Security Officer
"The programmers I have worked with have all been great! They think out of the box and make suggestions, and they research and figure things out on their own, which is a tremendous help to me. I would recommend them to any prospective clients you have."
Project Manager
"Great team and still one of the best I've worked with on the IBMi/RPG environment"
VP, Commercial Excellence & Digitization
Video Testimonials
Effectively Extending
Your Team
Ken Stewart, PMP, CSM
Vice president of operations & Engineering
PSigen Software Inc.
Play Video
Video Testimonials
Onboarding The Programmers.io Team
Brandy Churchill
Software Development Manager
Western National Insurance
Play Video
Video Testimonials
Effectively Extending
Your Team
Jackie Flummer
Director, Technical Business Systems
AmerCareRoyal
Play Video
Video Testimonials
Effectively Extending
Your Team
Luis Gonzalez
President
SalesScoreKeeper
Play Video
Awards and Certifications
Our programmers are well-versed in all the latest versions and libraries. We can
help your business integrate technologies no matter your requirements.