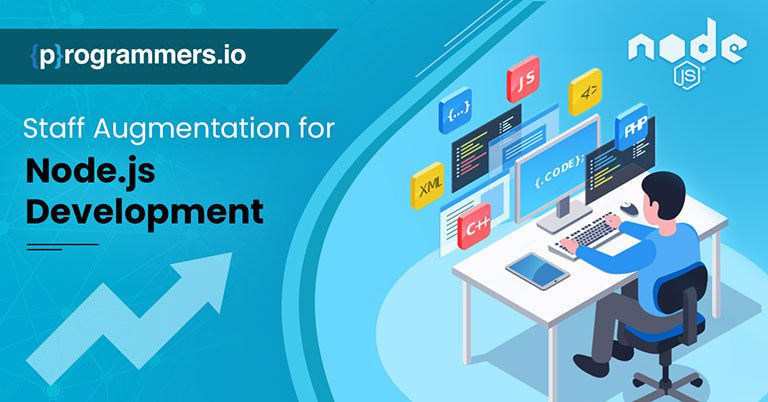 The Benefits of Staff Augmentation for Node.Js Development
The staff augmentation business model has been growing across several industries and areas. Its highly competent structure, which bridges the firms' skill gap with cost-effectiveness, is the basis for its increased usage. It creates a profitable environment for businesses trying to scale up with the aid of technology.
Employing specialized Node.js programmers via staff augmentation is a brilliant option for businesses looking to scale their development process quickly. With team augmentation for node.js development, you can select a programmer who has already been recruited and vetted and who works for a development shop. It is a hassle-free way to hire the best talent in the field.
Read: When to use Node.JS development
The programmers hired through staff augmentation know what is node.js used for and can make all the right suggestions to take your business forward. In other words, staff augmentation is just as reliable as internal hiring but considerably quicker and typically less expensive.
So, if you need to find a top-notch, full-time Node.js programmer at a fair price, staff augmentation is the ideal solution for you. The following are some of the main benefits of hiring Node.js programmers using this approach.
1. Easy Access to Node.Js Specialists
When using staff augmentation, your business just needs to determine the abilities required for the position; the staff augmentation agency will handle the rest competently and quickly. If you want to create a remote team of Node.Js specialists, staff augmentation is the ideal option. Even the work required to train these specialists is reduced by this strategy.
2. Flexibility
Staff augmentation services can reduce the stress that comes with unexpected events and shifting requirements. Additionally, if it turns out that additional experts are not required, companies may disengage them at any time.
3. Streamlined Deliverables and Productivity
Hiring specialist developers in the office is getting more challenging in the current situation. This challenge can be fully taken up by an IT staff augmentation model. The strategy offers seasoned professionals, to prevent unforeseen resignations from delaying project completion while accelerating productivity.
You can choose between adding new full-time workers, paying extra for staff professional development, or employing professional services to bolster your team in areas where it lacks specialized expertise, such as Node.Js development skills. The latter provides highly skilled individuals in the precise field of need immediately while meeting complete staffing requirements at all times.
Also, since businesses frequently need additional time and/or personnel to finish a Node.js project on schedule, staff augmentation can prove beneficial. It might be the only option in some circumstances.
4. Hire Based on Skills
When looking for the best Node.Js programmers for your development needs, make sure to focus on skill sets rather than the processes needed to recruit them. At the minimum, the programmers that are offered to you should know what node.js is used for. You can choose from the programmers offered to you after specialists find you the best candidates with the skill-sets you require.
5. Acquire Skills for a Reduced Cost
For sporadic or temporary undertakings, there is no need to spend money on internal skills training or hiring new personnel. By avoiding all the costs associated with hiring internal staff, you may lower the cost of hiring professionals.
For example, you only pay for the agreed-upon amount of work with Programmers.io's model for team augmentation. You can strategically prepare ahead if you have better insights into present expenditures.
6. Access to the Best Available Talent
The globalization of the IT sector has created new opportunities and given you access to talented and distinctive specialists, which can help you reach your customers more quickly. As you put together a team and get to work on something, it can already be obsolete due to the rapid innovation and change in the software programming market.
For example, developing JavaScript is not what it was a year ago. However, your business can keep up with the changes by adding staff with the required expertise. Staff augmentation allows you to look up such talent anywhere in the world.
7. Minimized Impact on Internal Processes and Improved Project Outcomes
You can add or withdraw a Node.Js team at any time using staff augmentation while minimizing business disruption. In contrast to project outsourcing, your in-house staff members do not feel intimidated by this approach and can engage with new personnel in a normal, appropriate manner.
Not only does staff augmentation have a minimal impact on your internal processes, but it also helps you get better outcomes from your development projects. Business analysts and administrators from the outside who may contribute fresh perspectives and ideas by viewing a project from a different angle can also be given access.
As new team members must be brought up to speed and all project-related facts must be made clear and precise, greater paperwork could be an added benefit. A few businesses that provide staff augmentation solutions have "discovery teams" with expertise in business analysis, process improvements, and requirement changes.
8. Reduced Hiring Time and Costs
A recruiting drive takes a lot of planning and resources to arrange and carry out. It entails recruiting tasks including writing a job description, publishing it on several job portals, and then selecting a small pool of candidates for interviews. However, with the Node.Js staff augmentation strategy, the staffing organization is responsible for all aspects of finding the best individuals.
Establishing and activating your offshore development center is quick, affordable, and involves fewer time-consuming procedures if you work with the programmers.io for node.Js staff augmentation.
Final Word
Node.js team augmentation services are best suited for small-to-medium-sized businesses that need temporary staffing. Businesses are likely to gain from both interim and regular, onshore or overseas, and interim and long-lasting services of contracting professional workers for node.js development.
You can get a clearer picture of the benefits of Node.Js staff augmentation for your business by getting in touch with programmers.io today.