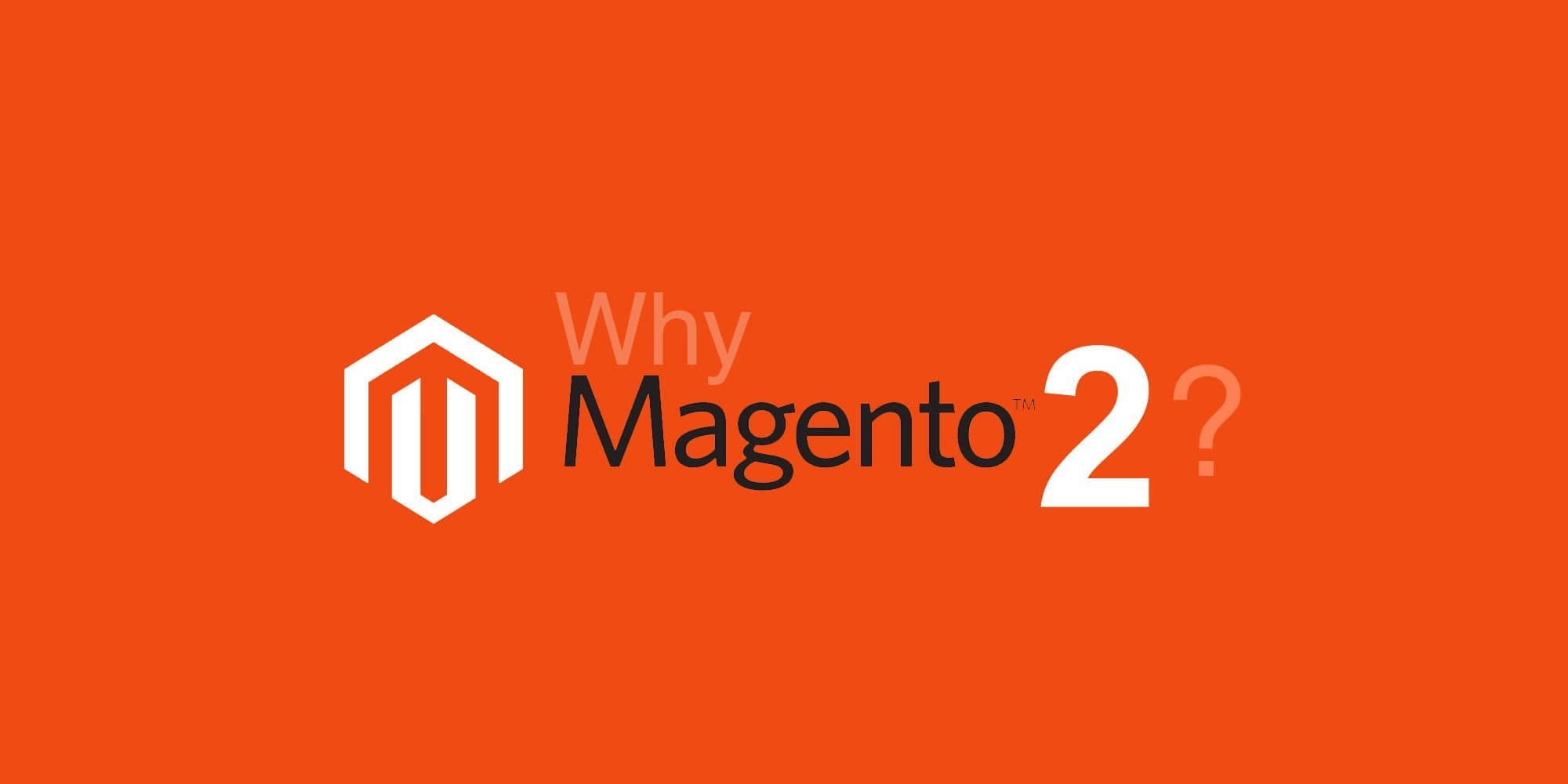 Why Magento is better than any other e-Commerce platform
The online shopping trend has boosted the growth of e-commerce stores and marketplaces. And the rise of these marketplaces has embarked on various technology platforms on which these web stores and applications are developed. Although, there are many such platforms and businesses are trying to switch from Magento 1 to completely different platforms because of the hassles involved in M2 migration.But this can result in compromising with actual results because Magento today has made a special existence on the Internet Retailer B2B e-commerce 300 list by standing at no.1 with 42 merchants. This is because of its extraordinary features, all-round support, inbuilt security and performance boosters that no other platform has provided so far.
The emergence of Magento commerce in 2020
Its invention dates back to the year 2008 when the first version was released. Magento is an open source ecommerce platform written in PHP. It is built using the Zend framework. Magento 2 was launched in the year 2015 with updated features like- reduced table locking issues, improved page caching, enterprise-grade scalability, inbuilt rich snippets for structured data, new file structure with easier customization and much more. Its latest stable release is Magento 2.3.5. Magento has already declared to withdraw its support and maintenance service for 1.x versions from June 2020, that's why companies are switching to Magento2 rapidly. But upgrading and migrating to 2.x is not necessary just because Magento is taking its support away. Migration is also because the latest upgrades come integrated with special features which are effective in generating maximum revenue and building consistent customers.
Latest trends in the usage of Magento
Magento 2 has seen a sudden rise in its usage since its acquisition by Adobe, which bought it for $1.68 billion in May of 2018.
1. According to Builtwith the market share of Magento for eCommerce: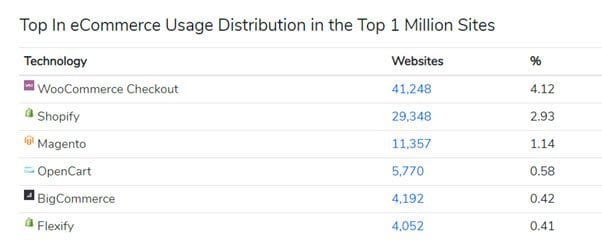 Magento 2 is a great fit for medium to large retailers. Its features have made capable enough to secure about 28% of ecommerce market share, making it one of the most widely used platforms.
2. Hostingtribunal.com stated that total websites using Magento 2 are 14,542 and gradually increasing by 9.8%. Maximum users are the owners of online shopping stores and other services.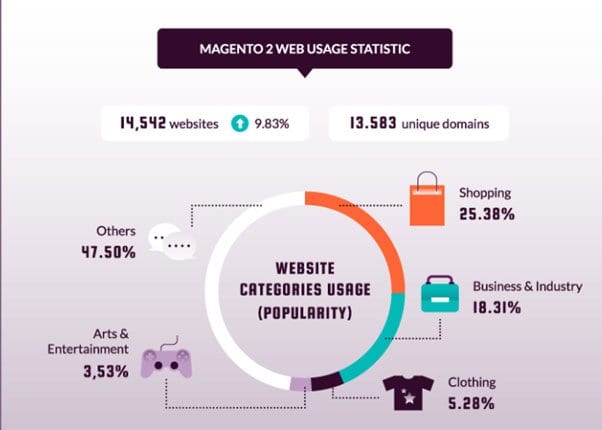 3. Studies by Creative Minds state that future of version 2 is bright. Worldwide sales on Magento commerce will reach till $2248 by 2020 and the online shoppers served by Magento will increase to 200% by this year.
4. Magento is the second most popular ecommerce platform after WooCommerce. It accounts for around 12% of the ecommerce market as stated by Cloud ways.
5. If looked from the development perspective, there are more than 2 lakhs Magento developers worldwide. This makes it easy for the online store owners to search someone for immediate assistance on their Magento project.
Why Magento 2.3 development has become so popular?
Progressive Web apps
As we all know the use of mobile applications is growing rapidly so is the need for online user experience. Stated by statista.com mobile applications account for 34.5% of total e-commerce sales in 2017and it is expected to rise to 54% of total e-commerce sales by 2021. Hence, the creation of Magento Progressive web applications (PWA) offer a reliable, fast and engaging experience that can help conversion rates as much as 50% and also increase revenue.
GraphQL
GraphQL is a query language created by Facebook in 2015. It is an API technology that allows progressive web app to push and pull information from the Magento store using smaller packets of data. It allows you to request data when you need it and also make smaller API requests. Grpah QL helps in faster loading and better customer experience.
Declarative DB Schema
Before the launch of declarative DB schema, each time developers had to write database scripts in PHP for the new version of Magento. With the integration of declarative DB schema in the current version of Magento, you can change the schema of a Magento database by writing code with InstallSchema and UpgradeSchema.
Elasticsearch
The MySQL search engine was very weak and had a lot of issues that were difficult to solve. This is why Magento created the ElasticSearch to solve the problems and make relevant searches. It empowers Magento site search with faceted search.
PHP 7.2 Support
The Magento 2.3 version supports PHP 7.2. This enhances the performance and adds new features to Magento 2.3. It also enhances security.
Multi-Source Inventory (MSI)
The new Magento 2.3 has a multi-source inventory (MSI) feature that enables to manage inventory from different sources. This is helpful if you stock your online store items in different warehouses. With MSI you can also reserve inventory with the aid of a new table structure in the database.
Page Builder
Page builder layout makes it easy for anyone to create customized pages on Magento without having a prior knowledge of Magento. It is especially great for users who are unaware about coding in HTML and CSS.
Cache-Management ACL
As the number of website users increases, cache policy does not serve to protect your store from any type of security issue. Magento commerce introduced the cache management ACL in Magento 2.3 to allow admins to use role permissions in the Magento's back-end.
Large scale Businesses will have to migrate to Magento 2
Magento 2 is a reliable and robust option for each and every ecommerce store. Online shops having large websites, are heavy or have critical customer data like their credit/debit card details should migrate to Magento 2 platform if they have not considered it yet. Once migrated, you can enjoy immense benefits and advanced features not integrated in any other version before.
Migration was never easy and one thing to keep in mind is that moving to Magento 2 is not just an upgrade, but a complete replatforming process. Although, Magento 2 comes with many similarities to 1.x versions but it is entirely a different platform having special coding and database. Migration to Magento 2 requires planning and carefulness.
Conclusion
There are approximately 30% of ecommerce stores which are still on Magento 1.x and not ready to migrate. It's obvious, startups and small businesses which are still in the developing phase cannot raise the cost required for Magento 2 migration. This is perfectly fine as they can coordinate or get help from qualified Magento developers for extensive support, develop security patches and maintain their existing Magento 1.x web store even after the support is withdrawn by Magento itself. Online startups can run smoothly and without any security issues for a reasonable time period. Once they have the required resources, they can migrate to Magento 2 easily.