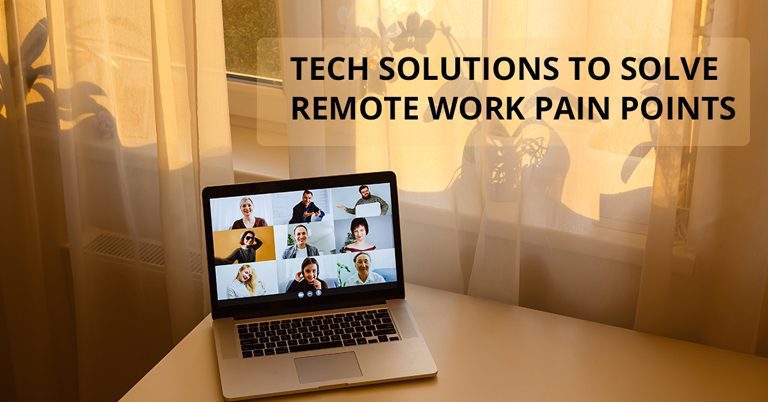 How to Leverage Tech Solutions to Solve Remote Work Pain Points
Call it through force or habit, but all of us now live in a world where a vast majority of all people are working remotely. Organizations that haven't gone fully remote have welcomed a hybrid working method, where developers are asked to come to work and work remotely at their own behest or through a schedule.
We were literally thrust into the work-from-home situation by the COVID-19 pandemic last year. The unique nature of the pandemic meant that people had to follow government restrictions and stay at home. The pandemic opened doors for organizations to introduce remote work mechanisms for programmers to follow.
Remote work comes with a number of opportunities for both developers and managers, but it is also host to multiple pain points. Developers working from home are now facing a number of hiccups that do not only help kill their schedules but make it difficult for them to focus on the work they do.
Fortunately, we now have several tech solutions available to us. In this article, we take a look at the solutions remote workers now have to handle common problems they face at work. All of these solutions help make remote work a lot easier for the developers working from home.
Problem: Lack of Networking
The lack of in-person events can significantly hinder networking for developers within and outside of your organization. Developers require events to mingle with professionals in the field to acquire not only knowledge of new solutions in the industry but also develop their network.
Remote work has led to a dearth of networking opportunities. Developers now fear losing out on connections and do not have a route they can follow for success within their field and in the organization.
Networking is a necessary evil, as it facilitates growth and helps provide work satisfaction and engagement. Leaders in today's work environment realize the importance of networking and are cognizant of the issues that come with remote work.
Developers can lose their motivation to work due to their inability to engage with others and develop their network beyond the boundaries of their workplace.
Regardless of whether you plan to operate your business remotely, managers should make sure that there are networking opportunities available for all developers to work remotely. This can be done virtually as well.
Read How managers can adapt Era of remote work
For starters, managers can provide developers with virtual connections and employee resource groups, where they get to communicate with diverse groups and feel engaged. The virtual world is strong today and collaboration tools can help facilitate growth.
Besides work-related collaboration, organizations can also initiate casual communication and networking for developers. Recreational groups, such as book clubs and game clubs, can help foster communication and bring organizations together.
Problem: Social Isolation
Social isolation is by far the biggest problem to come out of remote work. If we look at it, social isolation is a byproduct of the lack of networking opportunities. Even the lack of general in-person events and contact with others can lead developers to social isolation and general discontentment.
As social animals, humans feel most comfortable when they are communicating with others around them and have positive vibes coming from the workplace.
Offices and workplaces are often considered as a social point, where developers not only work but also meet with new people and think of ideas. Once physical work and interaction go out of the picture, developers feel isolated and left out. Developers spend the majority of their time at home when working remotely.
Business leaders can realize this problem and provide all developers with a virtual bonding experience. Something as simple as virtual happy hours on Zoom can battle this problem. Regular video meetings also bring about human interaction and can keep developers happy.
Problem: No Face-to-Face Communication
Communication is absolutely necessary for an organization to run smoothly and meet client requirements. Face-to-face communication and collaboration get extremely difficult in remote work settings.
Zoom became a regular fixture for organizations during the pandemic because of how it facilitated productive communication and allowed developers to interact with each other. Organizations can make sure that the potential of Zoom is leveraged to give everyone their daily experience of face-to-face communication.
Problem: Distractions
Distractions are bound to reduce efficiency when developers are working from home. Noise from family members, pets, construction and neighbors can all lead to distractions. Breaks may become more frequent, as developers are distracted by the TV and the fridge or the cozy bed, for that matter.
Managers can discuss and element time-tracking software operations here. Tools like RescueTime allow managers to monitor the time developers take to get certain tasks done. This platform maintains a check on employee time spent while working and produces results and insights that the management can then work on. Project management platforms like Basecamp can also be useful here.
Problem; No Training and Onboarding
New developers do not have the added luxury of in-person training and onboarding. Organizations are unable to pass their culture on to new developers because the onboarding process is managed online. Keep introducing new applications, and make sure that you have a process in place to ensure implementation. Videos can be useful here, as they help developers realize the techniques they can follow to use new apps. Keep current developers in mind as well when you introduce new solutions so that they are on board at all times.
There will always be pain points that you don't know of, which is why it is necessary for managers to keep in touch with developers and record feedback. Know the solutions you can implement and the pain points you can work on to make remote work bearable.