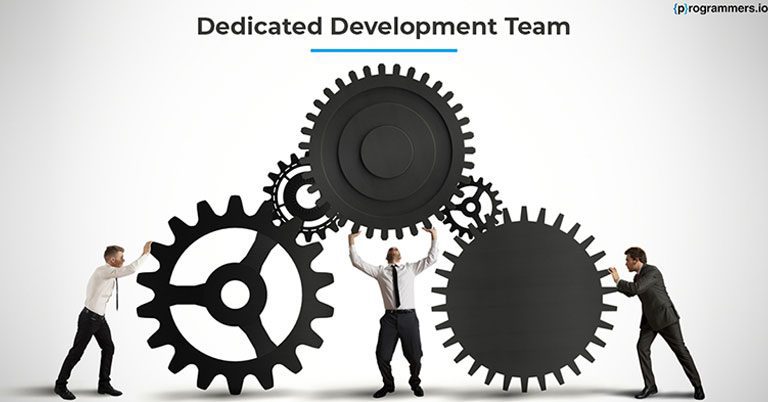 Hire Dedicated Development Team in 2022: The Ultimate Guide
The COVID-19 pandemic has made companies across the world reassess their team strategies and come up with improvisations to the previous model. Companies and organizations over the globe have recognized that in-house teams aren't the only way to operate today. Entrepreneurs realize that their business processes will work just as smoothly, or even better if they outsource a team of dedicated employees.
Many organizations that previously had in-house teams to manage tech issues are outsourcing their work to dedicated teams elsewhere and building a new management strategy based on a dedicated development team.
The fast and streamlined on-boarding process is just one of the many reasons why organizations are going for dedicated teams. Businesses can hire dedicated teams without conducting elaborate interviews and holding extensive tests.
In this article, we take a look at what dedicated development teams have to offer and give you a guide on how you can hire your own dedicated development team. Stay with us as we delve deep into this subject matter and understand the intricacies in play here.
What is a Dedicated Development Team?
To those who aren't well aware of the term yet, a dedicated development team is a common business strategy today, which is based on hiring a dedicated development team for offshore development.
The model for hiring a dedicated development team isn't the same as hiring outsourced workers. When you hire a dedicated team, you get an already established team and get to include and consider them as workers within your organization. Dedicated teams are usually hired for the customer's side of things and can take over operations without organizations having to ponder over processes.
Why Should You Hire a Dedicated Development Team?
Over 60 percent of all businesses within the United States today outsource their development teams in one way or the other. To combat this, almost 70 percent of entrepreneurs in Britain want to outsource their operations. The global demand for outsourcing is growing, and dedicated development teams are now in popular demand with many people.
You can hire a dedicated development team for your organization for many reasons. Some of these reasons include:
Launching a New Product
One reason for you to launch a dedicated development team could be to launch a new product. A dedicated development team allows you to launch a new product without worrying about hiring and firing employees within your tech support or software development department.
We recommend both startups and existing businesses to go for dedicated development teams to save costs in the hiring procedure, and to save time. Building a team from scratch can cost you a lot, both in terms of money and in terms of cost. Not every organization has that kind of money available to them, which is why it is best that they hire a team that is working together, but isn't directly coming under them and is not their responsibility as well.
Running Long-term Projects with Updates
Your organization may need the services of a dedicated development team if you plan to run a long term project with updates. Companies looking to build on their current services will need a group of talented people to manage the new additions and oversee the updates required in operations later down the time.
All new software operations require updates over time, which is why it helps that the same team is available to perform the updates and manage maintenance within the application. Consistency is key in software development and management, which is why it helps to have the same team oversee all parts of operations within the organization.
Companies on a Budget
All companies on a limited hiring budget can also benefit from dedicated development teams in 2022. Dedicated development teams are usually considered to be more expensive than other in-house teams, but that isn't the case. Once you build a team of your own, you will come to realize that a dedicated development team isn't half as costly as you may think and doesn't come with as many budgetary constraints.
While it is profitable to hire in-house teams for certain projects, we believe that most development projects can prosper, if they are managed by a dedicated development team.
Read : Mistakes to avoid while managing Remote teams
Who to Have in Your Team?
The dedicated development team you build for your organization is entirely based on your own requirements, and who you would want to be inside the team. Most clients today have requirements based on the qualifications of the team members, the number of developers present in the team and the talent that each individual member has.
A dedicated software development team should ideally be based on the following positions:
Project Manager
Project managers act as the link between the team and you as the client. Project managers act as the central cog in the wheel and are responsible for overseeing the path of operations. The project manager will also oversee deadlines and workload to make sure that everything is managed properly, and there are no errors in processes.
Business Analyst
Business analysts are expected to oversee regular business and conduct research related to the project. Business analysts are required to oversee the feasibility of the end product the team develops and check whether the product sits well with the goals and requirements of the organization and meets the technical specs.
UI/UX Designer
UI/UX designers also play an important role in the process and are responsible for identifying all problems that users might face and have to find solutions to them. The end goal for all UI/UX designers is to create a user-friendly interface that is easy to use and is custom designed for the end customer.
Software Developers
Software developers make the core of the team and work on both front-end and back-end projects, based on their expertise. Full stack software developers are required to be experts in both front and back-end software development.
Front-end developers are required to create and finalize all parts of the end product that are visible to the customer. The front-end developer will prepare the layout, run performance optimization and eventually manage client programming for effective results.
Back-end programming is concerned with the server-side end of things and is involved with all the backend operations that go on behind the scenes. The back-end programming process includes everything from the planning of the software to the eventually rollout or release.
Additionally, organizations can also look for QA Specialists and DevOps Experts as part of their team.
Read : Choosing Between extended managed team and outsourced team.
What are the Benefits of Dedicated Development Teams?
Your decision to hire dedicated development teams in 2022 is expected to bring forth a number of benefits. The benefits you can derive out of a dedicated development team include:
Cost-Efficient
Projects that are managed by dedicated development teams are generally more efficient in nature. Businesses that use outsourcing can benefit from better efficiency and opportunity. Many organizations hire dedicated development teams from countries in South Asia or South East Asia, which are generally less expensive to pay than employees in the United States or Europe for instance.
A company located in the UK or the USA can save over $100 a day if it goes towards Eastern Europe and hires a dedicated developer from Ukraine. The costs are significantly lower if you talk about a team.
Over 70 percent of the companies in the United States and over the globe have made savings by outsourcing operations and hiring a dedicated development team.
Easy to Manage
Dedicated development teams can be fairly easy to manage in comparison with others in the market. Business owners realize that all dedicated development teams come with a project manager that they can interact with to minimize errors. The project manager can relay information to the rest of the team and make management easy for your team.
The management activities and the work done by the dedicated team is transparent and visible to all. The teams don't require constant attention, and you can focus on other things that matter.
Focus on the Project
A dedicated development team is fully focused and committed to one project. They put their head to the tasks at hand and don't focus on anything else. The added immersion in the tasks leads to better and more consistent results. The 100 percent dedication to one project can help improve the response times and can speed up operations as well.
The dedicated development model is highly flexible and can vary based on requirements, budget constraints and the requirements from the project.
Enhanced Collaboration
Collaboration is usually enhanced due to the added experience of the dedicated development team. Most managers fear offshore teams because they think they will lose control of the team. Dedicated developed teams are, however, all about enhanced collaboration and can work with you to provide great results.
The project manager is dedicated for communication between the client and the team and makes sure that everyone is on the same page as far as the project deliverables are concerned. The enhanced collaboration also means that projects close faster than before.
Greater Expertise and Flexibility
A dedicated development model offers greater expertise, as you have experienced programmers with diversified skill sets available to you. Additionally, entrepreneurs can rely on the abilities of their staff members without any limits. Entrepreneurs know that the experienced pros will deliver when and where needed.
Also, dedicated development teams offer flexibility in budgeting and a number of other things. The flexibility they provide can help improve results and deliver on the promise on offer. Organizations can set the teams based on their requirements.
How to Hire a Dedicated Development Team?
You can hire a dedicated development team by paying attention to the steps below:
Define Your Requirements
The first step towards hiring a dedicated development team is to understand your requirements and define it to the stakeholders. Answering the following questions will give you a better idea of what your requirements are:
How many experts do you need inside your team?
What skills should the experts have? Do you want the developers to have expertise in any specific programming languages or frameworks?
What is the budget you have in mind?
What is the timeframe of the project?
Conduct Market Research
Once you define the requirements, it is time for you to conduct market research. You can either go to specialized platforms that offer different dedicated teams or search for teams online and see which one offers the best mix of affordability and quality.
It is crucial that you consider the following aspects during the research:
Location of the outsourcing firm
The developer rates on offer.
Reviews of the firm by other consumers
Focus on tech and industry
Examples of the projects they have done before
General info related to the employer
Their expertise in the industry
Choose Your Vendor
This will be the most complicated part of the process. Once you have defined your requirements and researched the providers, you have to choose the vendor you are willing to work with. You should pay attention to the experience of the vendor, the portfolio they carry and the communication protocols they believe in. You can choose a vendor by speaking to them and asking them detailed questions from a questionnaire.
The world around us is developing, and many organizations are leveraging the opportunities to work with dedicated development teams. You can follow the guidelines in this article to hire a dedicated development team in 2022 and take your operations forward.