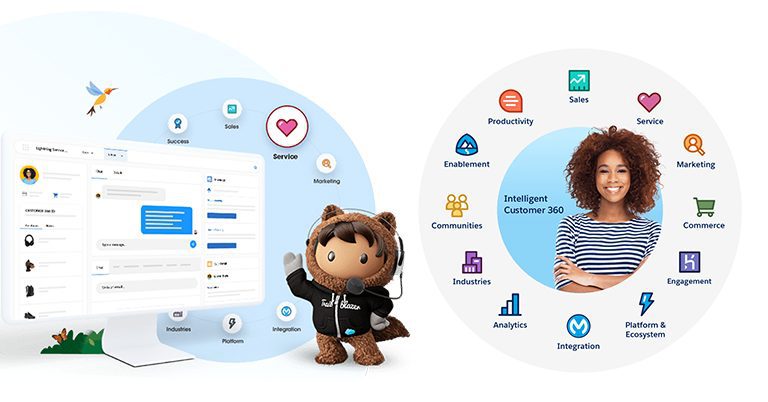 Your Guide to Salesforce Customer 360 and Commerce Cloud
Ensuring a flawless customer experience across different channels and platforms is the norm in the sales industry today. Salesforce happens to be a pioneer in this regard and meets customer expectations in several ways. To achieve the desired results from your Salesforce cloud, you need to go with the perfect digital solution.
Both Salesforce Customer 360 and the Salesforce Commerce Cloud are popular with users for their interactive design and the ease of access they provide. These platforms make it easier for businesses to communicate and get the best results possible.
In this article, we take a look at both Salesforce Customer 360 and Commerce Cloud. According to salesforce developers, these platforms have made their customer journey easier for organizations to map and are mainstream options in today's market.
Salesforce Customer Cloud
The salesforce commerce cloud, which was popularly known as Demandware, is currently being used by retailers such as Puma, Burton, Lacoste and Adidas. It has a stamp of authority coming from some of the most renowned retailers in the industry and is only growing stronger and better over time.
The salesforce commerce cloud is a highly scalable ecommerce offering that is based on the cloud and operates as SaaS or software as a service. The cloud solution offers functionality devised over years of labour and is optimized to improve the overall customer experience.
The platform offers a SaaS solution to technically free business owners from the added burden of maintaining their customer journey and drafting a road map for them. The solution allows you to focus on other important details as it figures out ways to stay ahead of the curve.
The features provided by the Commerce cloud are best in class and make it a must for businesses today. The rapid nature of change in the ecommerce sector calls for drastic measures and this is one. The commerce cloud by salesforce is perfectly designed for businesses servicing B2C markets.
The cloud solution offers top retailers an opportunity to trade as fast and as hard as possible on the platform without going through the challenges that would typically come from other ecommerce solutions. The platform saves you from the challenges of stability, scalability and managing a team or a roadmap forward.
Always remember to go for a solution that serves your business interests and meets your objectives. The one size fits all approach doesn't hold true here.
Top Features
As long as functionality and core performance are concerned, the commerce cloud comes with a number of exciting features. Some attributes found within the commerce cloud, which could be good for your retail brand include:
Seamless upgrades: The platform is based on SaaS, which is why it is relatively easy to run updates and upgrades on it. There is an administration pool on it, which can help retail businesses.
Scalability: The commerce cloud can cater to all spikes in demand since it is based on the cloud. The platform adjusts to spikes in demand without requiring additional investments.
A Suite of Services: The platform comes with a full suite of services. There are a number of services that can be integrated into one solution set for appropriate answers.
Product Roadmap: The salesforce commerce cloud comes with an appropriate roadmap for businesses to follow. If you like the platform, you probably will end up liking the roadmap as well.
Limitations
The commerce cloud is most suitable for businesses serving consumer markets and with high margin rates. This platform isn't as suitable for organizations servicing the B2B market with tight margins and low-profit rates.
Salesforce Customer 360
Going by its definition, Salesforce customer 360 is a consolidation of almost all software solutions by Salesforce grouped in one place.
The customer 360 program is designed to improve the interaction between brands and consumers. This is done by promoting internal operations and collaboration. The program enhances collaboration between analytics, marketing, sales, commerce, UT under a CR solution and service.
Using the data gathered from all these departments, the Customer 360 solution prepares a unified customer account or profile that can be utilized across all of the applications and platforms running under Salesforce. Almost everyone in your team can have access to the data and customer profile for branding.
Off late, Salesforce has implemented the 'go home or go big' mentality. Based on this mentality, the platform believes that they can take their customers to the next level by incorporating add-ons from external products and offerings. These add-ons assist the components of the 360 solution and make them even better.
These components include:
Identity
The identity construct by Salesforce 360 is designed to maintain one unified or universal identity for each user. This universal identity can then eventually go on to simplify the data recovery process and can keep threat actors at bay. Once you know your data is stored properly, you can share customer data with relevant sources and speed up analytics.
Data Manager
The Customer 360 solution comes with a data management tool. The Data Manager is powerful in nature and can reconcile all data across third-party systems, clouds and organizations. Besides just being a valuable and powerful tool, the solution is also convenient for support teams. Customers are identified through the Data manager and are given efficient responses.
Privacy
Many customers feel their privacy is compromised today. The lack of control over data can often lead to distrust. Organizations can use the Customer 360 solution to un-sow these seeds of doubt and add more clarity. Maintain control over where customer data goes.
Both Salesforce Commerce Cloud and Customer 360 ensure a seamless customer experience. Programmers suggest to integrate them within your processes and benefit in the long run.
If you are planning to make significant investments in Salesforce software development, consider hiring remote Salesforce developers today.