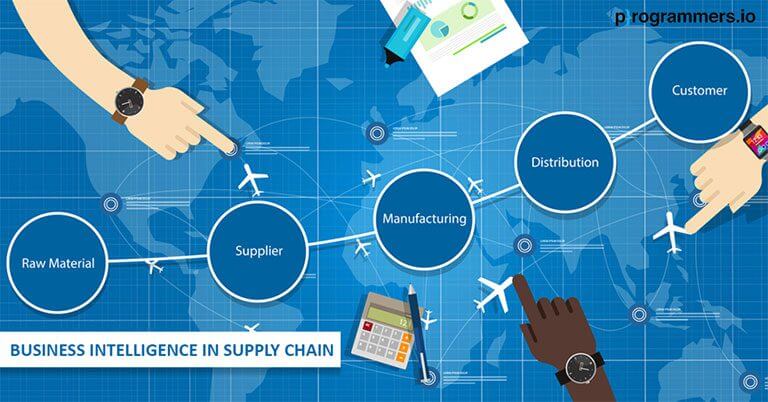 Efficiency of Business Intelligence in Supply Chain
Supply chain management plays an important role in the current world market. Restrictions imposed as part of the COVID-19 pandemic have meant that deliveries across the world have come to a halt. The way supply chain firms have recovered from the pandemic goes to prove the disaster management processes these companies have currently and how they are ready for disruptions of all sorts.
However, despite the general readiness of the market, the post-COVID period has unearthed a number of general inefficiencies in supply chain operations. Companies are in a race against time to make sure that they use business intelligence for better results in their logistics measures. Business intelligence can help you identify potential chinks in the armor and improve business operations for supply chain firms.
Business Intelligence is a necessity today as it allows managers to visualize the data available to them and work on it to generate insights and patterns. In this article, we take a look at business intelligence in the supply chain and look at the role that it plays in achieving efficiency and growing standards.
Why Supply Chain Management Requires BI
Business Intelligence has taken the world of supply chain management by storm. Supply chain management requires business intelligence for the following purposes:
Business intelligence helps stakeholders make key decisions. The decisions are driven by data and the metrics behind it.
Business Intelligence comes with interactive tools such as dashboards and scorecards. These scorecards and dashboards provide a detailed result of your current performance and help you move forward in your supply chain decisions.
Supply chain management requires integration across different departments. Keeping this in mind the data is spread across different departments. Business Intelligence collects data from different platforms and presents it for everyone to review.
Data coming in from all steps of production is recorded in business intelligence.
Read : Reasons to use Power BI
Aspects of BI in SCM
The supply chain management process includes multiple elements such as logistics, procurement, operations management and IT. All of these elements work like separate wheels of the same car, which is supply chain management. Even if one wheel falls out of place, the others are taken out of action as well.
Business Intelligence can coordinate with each aspect of the wheel and can help you perform a more comprehensive business with stable supply chain management.
Demand Management for Inventory
Managing demand is an important part of supply chain management for organizations today. It is highly necessary that businesses manage the supply of inventory and study changing patterns in demand for appropriate investments and predictions.
Demand forecasting using Business Intelligence can prove efficient in the long run. Poor demand forecasting measures can lead to low-profit margins with high costs of supply chain management. Business Intelligence provides an interactive process through which it is easier to forecast trends and make your supply chain a lot more efficient at inventory management than it is currently.
Distribution Management
Distribution is more than just moving products from one location to the other. Distribution includes proper inventory, packaging, logistics and warehousing. The movement of goods should be overseen in a proper manner and the updates should be communicated to all employees in the organization.
With the use of business intelligence, organizations can monitor and track the status of customer satisfaction and different orders in their business. Business Intelligence can help you measure the cost of fuel, identify growth opportunities in your logistics and address challenges in delivery.
Integration of Suppliers and Vendors
Integrating suppliers with vendors can help organizations improve coordination in the supply chain and link stakeholders together. Business Intelligence can help integrate suppliers with vendors and can create a feasible working environment for everyone.
Business intelligence increases the logistics cycle and eliminates the time that is wasted and the storage space that isn't utilized. Productivity is increased as a result of this and organizations can cut down on wasted time.
Forecasting
Business intelligence can help play a significant role in predicting patterns and improving knowledge of the market. The trends in the market are easier to track with BI, which eventually improves the performance of the logistics department.
Sales forecasts are heavily dictated by the trends in the industry, which is why it is necessary that organizations understand the dynamics in play and work based on them.
Managing Disruptions
Supply chains are host to a number of disruptions today. Businesses across the globe saw a number of disruptions in logistics and supply chains between 2020 and 2021. These disruptions were problematic in nature and opened the doors to a number of risks in the industry.
A good business intelligence platform can help supply chain firms manage disruptions and come up with strategies to tackle the problems. The strategies are based on creating contingency plans and managing reactions to disruptions.
Best Practices for Supply Chain Management
Some of the best practices you should know for supply chain management include:
Having regularly scheduled meetings to ensure business objectives and to set strategies that are based on actual goals.
Identifying and using technology to speed up the supply chain process and to minimize the impact of disruptions.
Improving cycle times and providing decent customer service to all customers.
Talking to key stakeholders and aligning their needs in one proper manner.
Optimizing inventory cycles for the best outcomes.
Reviewing procedures and policies.
These steps will help ensure the best outcomes in the supply chain. Business intelligence is a growing topic of concern in the supply chain industry. We hope the roles and benefits mentioned here will help you understand the importance it carries.