About Client
The client is a renowned provider of industry leading cloud-based business management software to multiple industries for over 40 years. The company's products and solutions are focused on empowering the SMBs that are spread across industries like manufacturing, building and supply, office products, business applications etc.
The company helps its customers to plan, manage, analyze and control their businesses by providing innovative software applications, industry-experienced solutions consultants, best of its kind technology plug-ins and outstanding client support.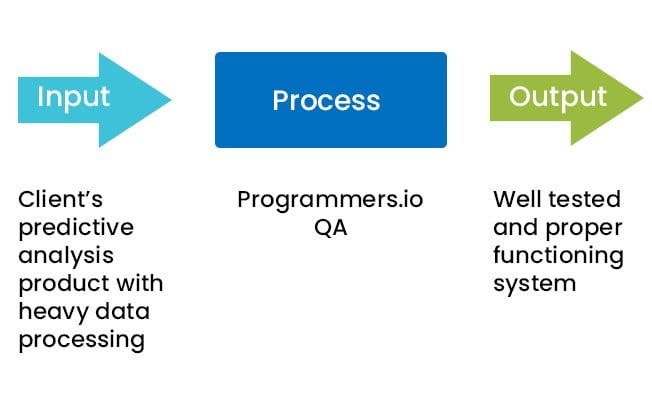 The Challenge
The client chose Programmers.io as its quality partner to resolve the issues related to its predictive analysis product. The product provides valuable insights especially to ecommerce companies and retailers about their customer needs based on their digital footprint and online purchase history.
The client was facing challenges in handling massive amount of click-stream, transactional data, and slow performance of live dashboards on portal and was keen to resolve it. This was due to daily user limit quota to download data from Google Analytics.
The client wanted to test and overcome technical, maintenance and cost complexities.
The client expected a well-tested and properly functioning system from us.
The testing provided more secure and authentic solution.
Programmers.io team helped the client achieve greater data visibility, security, and access to operate with greater efficiency.
As a result of continuous quality check, the organisation is locking higher revenues and customer loyalty.
The client increased effective product usage with improved licensing techniques.
The testing results are helping the client to achieve greater performance and stability across all platforms and portal.
Our client now saves a lot of additional expenses and time with automation testing and effective resource utilization.
Testimonials
"We find your team to be true business partners. Exceptionally responsive, strong domain knowledge, and outstanding at execution."
Chief Integration Officer
"Happy with the performance. The team is self-driving, which is something I've had struggles with in the past. Very knowledgeable on the IBMi and requires minimal guidance."
Director of Information Technology
"Every developer we have worked with has been great! They are great at analyzing and making great suggestions, in addition to coding all that we ask for. Even with the time difference, they are always willing to work on "our hours" when needed for deadlines and projects as needed. Thanks for everything!"
Chief Information Security Officer
"The programmers I have worked with have all been great! They think out of the box and make suggestions, and they research and figure things out on their own, which is a tremendous help to me. I would recommend them to any prospective clients you have."
Project Manager
"Great team and still one of the best I've worked with on the IBMi/RPG environment"
VP, Commercial Excellence & Digitization
Video Testimonials
Effectively Extending
Your Team
Ken Stewart, PMP, CSM
Vice president of operations & Engineering
PSigen Software Inc.
Play Video
Video Testimonials
Onboarding The Programmers.io Team
Brandy Churchill
Software Development Manager
Western National Insurance
Play Video
Video Testimonials
Effectively Extending
Your Team
Jackie Flummer
Director, Technical Business Systems
AmerCareRoyal
Play Video
Video Testimonials
Effectively Extending
Your Team
Luis Gonzalez
President
SalesScoreKeeper
Play Video
Contact Us Today!
Find out how Programmers.io can help your company
get to the next level.
Risk Free! We guarantee you'll be happy after 30 days or we won't invoice you.