About Client
The client is a designer, marketer, and distributor of upscale collections of women's attire, sportswear, and other products. Originally established in the year 1950, it has emerged as an affluent brand with a heritage and aesthetic based on the Palm Beach resort lifestyle.
The brand has demonstrated multi-generational appeal. Its products can be found in the company's owned signature stores, e-commerce site, certain department stores, and a variety of independent specialty stores. Programmers.io (PIO) is supporting this fashion retail client in the field of Data analysis using business intelligence, EDI transactions and IBM i projects.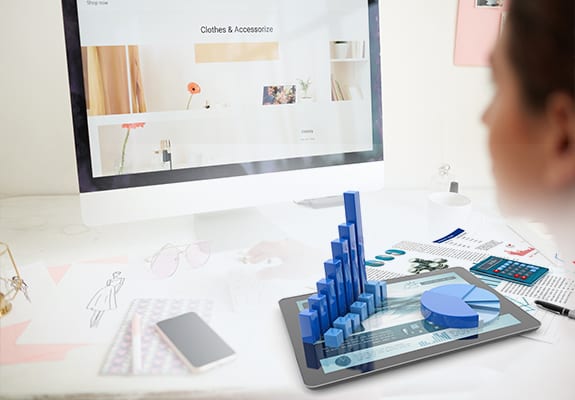 The Challenge
The client being a large scale retail company of garments and fashionable outfits, it had to focus on delightful CX and offer various discounts and promos. For this the retail client had to analyze real time data but it was facing the following challenges:
The client had a huge amount of promo and sales data which became extremely difficult to retrieve from the database.
The existing data warehouse had complex components and queries that took a lot of time to fetch the required data from several data tables. This delay made them analyze old data instead of real time data.
The inability to drill down to the exact information with cumbersome manual process was frustrating for the data management team.
Huge amount of data overload and retrieval even led to bugs and security issues.
Looking at the complexity and delays the client wanted a simplified Centralized Data warehouse that contained all the promo/sales data at one place from which any information could be retrieved within no time. The retail company was also concerned about the security risks and bugs of the overloaded data in the tables.
The Solution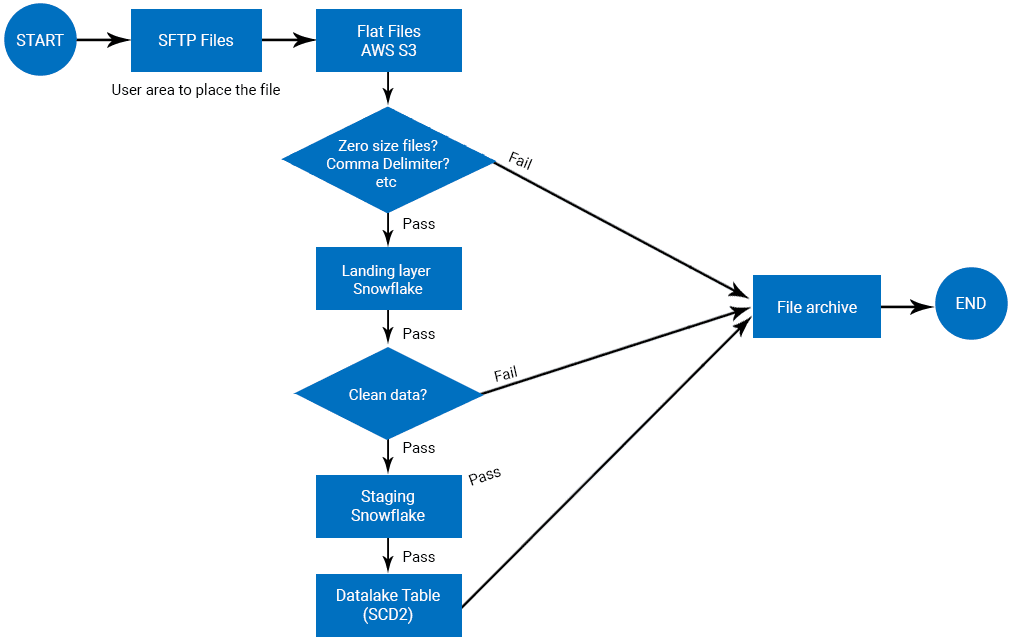 Programmers.io has a team of Data Engineers with in-depth experience in enabling the clients to extract actionable insights. We helped the client to analyze to perform data analytics on huge amount of data and transform it into readable visual reports.
Our team analyzed the severity of the situation and immediately created a data flow plan to simplify the backend data tables. Data Lake/Datawarehouse was created using Matillion and Snowflake (Datawarehouse).
Programmers.io developed the data flow with the metadata approach as it reduces development time and development assets, hence making the process hassle free.
Our team created the QA job suites which eliminated the QA manual activity, hence saving the QA time and reducing the timeline from months to minutes.
Programmers.io team also integrated the main data flow built in Matillion with AWS service. This made the real time execution robust in nature for future maintenance with the tracking of real time issues.
Cloud Data Warehouse using Snowflake was built to have more control over structural and semi-structural data with extremely fast retrieving process with graphical data representation. Matillion ETL was used by our team to unleash the benefits of the cloud data warehouse and integrate it with Data warehouse/Data Lake.
Our team followed the shared model development throughout the process that minimized the number of resources as single development model can be used across the board.
Maintenance and ad-hoc changes could now be incorporated by any new authorized Developer easily. It was not possible earlier and consumed a lot of time of the data management team.
Parallel execution of table loads led to faster data processing. Earlier it took around 10 hours to process the information, now it takes only 10 mins to process data and create real time dashboards.
Main focus or agenda behind metadata approach/shared module used in the process was to save the time and reduce the cost. It brought down the process timeline from 6 months to 1 month.
Faster data fetching process has reduced a lot of manual efforts, hence narrowing down the job of 10 people to just one data engineer.
The client no longer has to rely on old data as the automated alerts for new data and real-time performance dashboards help the client to spot latest trends and leverage the study for business expansion.
Testimonials
"We find your team to be true business partners. Exceptionally responsive, strong domain knowledge, and outstanding at execution."
Chief Integration Officer
"Happy with the performance. The team is self-driving, which is something I've had struggles with in the past. Very knowledgeable on the IBMi and requires minimal guidance."
Director of Information Technology
"Every developer we have worked with has been great! They are great at analyzing and making great suggestions, in addition to coding all that we ask for. Even with the time difference, they are always willing to work on "our hours" when needed for deadlines and projects as needed. Thanks for everything!"
Chief Information Security Officer
"The programmers I have worked with have all been great! They think out of the box and make suggestions, and they research and figure things out on their own, which is a tremendous help to me. I would recommend them to any prospective clients you have."
Project Manager
"Great team and still one of the best I've worked with on the IBMi/RPG environment"
VP, Commercial Excellence & Digitization
Video Testimonials
Effectively Extending
Your Team
Ken Stewart, PMP, CSM
Vice president of operations & Engineering
PSigen Software Inc.
Play Video
Video Testimonials
Onboarding The Programmers.io Team
Brandy Churchill
Software Development Manager
Western National Insurance
Play Video
Video Testimonials
Effectively Extending
Your Team
Jackie Flummer
Director, Technical Business Systems
AmerCareRoyal
Play Video
Video Testimonials
Effectively Extending
Your Team
Luis Gonzalez
President
SalesScoreKeeper
Play Video
Contact Us Today!
Find out how Programmers.io can help your company
get to the next level.
Risk Free! We guarantee you'll be happy after 30 days or we won't invoice you.