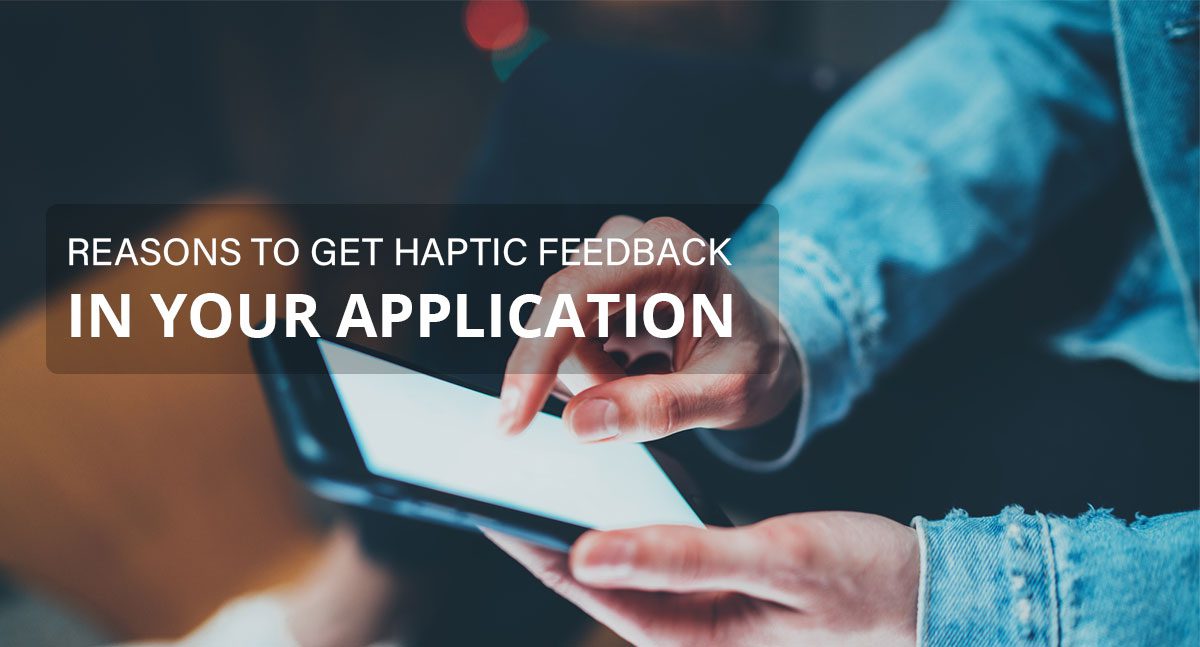 Reasons to Get Haptic Feedback in Your Application
The increasing number of applications on the Apple App Store and the Google Play Store has made it difficult for new solution providers to pop up and provide a feasible solution. Stats from both these application stores have revealed that a rough amount of 7,400 applications are released on these platforms daily.


Out of the thousands of apps released on these platforms, only a handful are able to catch our attention in the manner they should. Users think that developers and product designers cannot impress them anymore, which is why the innovation and creative design in the new apps have dipped.

Mobile phone manufacturers realize the growth potential for new applications, which is why they come up with new options and features to make the growth tangent easier for them. Companies that keep an eye on the new happenings can deliver the best outcomes and give users the kind of innovation they require.

To this end, the emergence of haptic feedback, together with haptic technology, allows organizations the ability to woo customers and enrich the mobile application experience. If you do have an application for your business or are looking to develop a new application, you should consider haptic feedback as a part of it.

In this article, we look at what haptic feedback is and some of the reasons you should use it in your applications. Go through this article to know more about the feature and get the appropriate results.


What's Haptic Feedback
The word haptic is fairly new in the app development circles and may not necessarily be something that most developers know. However, regardless of expertise in the new technology, developers and the general public must be aware of haptic communication and the core premise haptic technologies follow to generate the appropriate results.
All haptic technologies today are focused on the same goal: to create a tangible experience for the mobile app user through the use of vibrations, motions and force. Users of the Apple Watch will know better about haptic technology and what it contains. The Apple Watch gives a relative tap on the wrists by using its sensors. The application can add sensory measures to the table and gives haptic feedback to users.

Haptic feedback is all about delivering sensory results and implementing a new layer of experience that users can benefit from. Both Android and iOS devices have haptic technology built within them, which can help users get the possibilities they require.

The number of possibilities today allows app developers to fully explore this horizon and give users a full blend of opportunities.

Using Haptic Feedback within Your Applications
Since haptic feedback comes through a vibrational response, it can easily be used across every slide, scroll and tap on your application to give it a better look and feel. It is, however, extremely important for app developers to understand just when this addition can add value and just when it can become a pain to handle.

For instance, providing a small vibration when your app successfully carries out an operation can add to the user experience and make users fans of the application. However, the same can become irritating and repetitive when it is repeated again and again.

Mobile games can benefit from this addition the most, as haptic feedback has already been experimented with across the Play Station and Xbox series. The vibrations and nudges in mobile games can come in handy whenever you clash with an enemy or whenever you pass a level. Even people who haven't played games for some time would know just how haptic feedback adds to the experience.

Haptic feedback is differentiated into two different types, and you get to go for the one that best meets your requirements.
Transient Haptic Feedback
Transient haptic feedback is what we have all read and heard about. Transient feedback will include the little taps we receive. Fortunately, transient feedback allows you to set the intensity of the feedback based on what you prefer and what you want most.

You can set the pace of the feedback to get sharp feedback or get barely noticeable feedback. This addition to the haptic feedback domain allows people to set the pace of feedback based on their own requirements and have a decent time on the application.

Additionally, haptic feedback is also set based on continuous feedback and other taps. You can fiddle through the settings to set feedback based on what works best for you.
Haptic Feedback to Improve User Experience
Haptic feedback isn't just a small tap to improve app delivery but can also be marketed as a way to improve user experience as a whole. The feedback gives a better feel to the user experience and fosters conversions, sales and engagement. Haptic feedback may feel small, but it can definitely influence the way employees feel about an application.

You can do a lot more with haptic feedback based on your appetite for experimentation and how you are looking to add little details that go a long way in delivery. However, as is the case with everything in UX, you need to balance the details and ensure the right steps for smooth delivery.

Haptics are little touches that add to the user experience and make it better. With the advancements in app design and mobile technology, we believe all organizations should add a little bit of it to their apps.