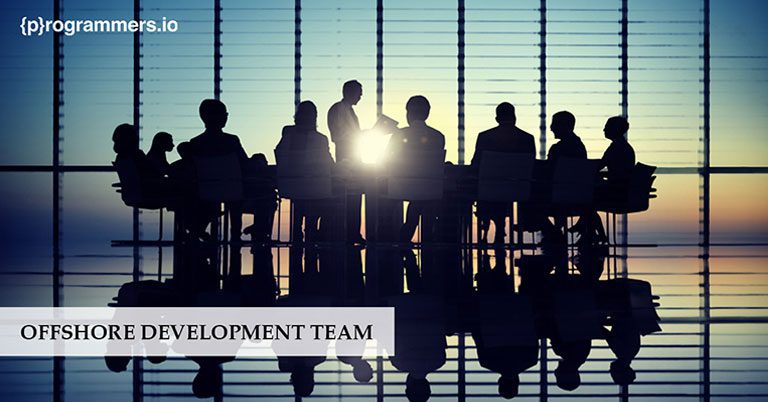 How to Hire Offshore Developer for Your Team: Hints, Pricing, and More
Repeatedly mentioning post-COVID effects may seem clichéd, but this cliché has become somewhat our sure-fire way of life. The surge in offshore outsourced development services is one of COVID's well-known but favorable outcomes.
Staying relevant in today's world, especially in the rapidly changing digital world, is no longer a child's play. It has been seen that a large number of organizations, regardless of size, have already started to rely on digitization to demonstrate their relevance.
Integrating software development into your firm's operations can help you not just survive but also outperform your competitors. And there is no better way to do this than hiring an offshore software development company.
At some stage, your business will have to confront the challenge of finding and employing a dedicated offshore team of software developers. While it is a significant and critical activity, there is no need to make it a headache.
Locating an offshore software development team with sufficient engineering capabilities and experience to assist you in solving your unique business challenges is the key to outsourced offshore software development success.
But how do you choose the right one, one that has the technical and domain skills you require, is within your budget, and you can trust? We've put together a tutorial on how to locate, test, and hire an offshore development team to assist you.
Why Hire Offshore Software Developers?
The COVID-19 pandemic has forced businesses to resort to outsourcing due to the massive shift of the remote work business model. Employing offshore developers gives organizations access to qualified resources at a lower cost.
Companies can obtain competent specialists, a wide talent pool, cutting-edge technical innovation, and performance-oriented solutions by outsourcing development projects.
Creating a software development team in-house is a difficult task. To hire and manage the professionals you need, you will need loads of effort and money to bear overhead costs. That's why so many companies choose to focus on their core business tasks and outsource software engineering to offshore workers.
According to a Deloitte global outsourcing survey, 72 percent of organizations choose to outsource software development rather than build it in-house. But why do businesses like to outsource so much?
The following are some of the reasons why many businesses are outsourcing their software development to offshore sites.
1. Flexibility
Businesses outsource software development for a variety of reasons. One of the most common reasons is flexibility. It's simple to add or subtract developers from an outsourcing team.
You may not even require the entire team to be ready to begin the assignment. Instead, you can hire the experts you need at each step of the process. Flexibility is critical to company success, and software development is no exception.
2. Cost-Efficiency
One of the most significant deterrents to starting a business is the cost. According to Quartz research, roughly 46% of companies fail due to a lack of funds. If companies recruit offshore development teams, they are unlikely to suffer the same fate.
Since you don't have to incur overhead costs like salary, office rental, holidays, insurance coverage, recruitment fees, and so on, when you outsource, you save money.
Instead, you could put all of that money into creating an MVP. Not just that, but due to the lower cost of living there, the countries where you offshore will have lower development rates than the United States and Western Europe. So, you say money there as well.
3. Fill Gaps in Your In-House Team
Many businesses supplement their software engineering or IT teams by bringing in an overseas professional to fill in the gaps. For example, if your team is short on mobile developers and wants to develop an app's mobile version, you can easily outsource that task to an offshore developer for the duration of the project.
Because offshore workers do not require additional training, they are ready to start as soon as they are employed. As a result, it is easier to get a project started quickly.
4. Access to a Larger Pool of Talent
One of the most significant benefits of outsourcing is that it allows you to tap into a broader pool of talent. Finding talented developers in places like the United States and Western Europe is challenging.
It's because the tech behemoths have already hired the best developers by providing them with benefits, large packages, appealing bonuses, job stability, and a sense of security.
Working in a startup or small business, on the other hand, means taking chances. Outsourcing will help to solve this problem by allowing you to engage a highly qualified and capable developer from Eastern Europe or Asia who would be thrilled to work with your company.
5. Lower the Burden on Your In-House IT Team
Even when you have an in-house IT team, outsourcing to a remote team has the added benefit of keeping your team focused on routine work. IT teams must stay on top of network problems, administration, and cybersecurity, among other things.
Outsourcing allows you to relieve some of the pressure on your team. This shared duty is a win-win situation: outstanding normal operations and high-quality software development.
The Offshore Locations to Look For Outsourced Software Developers
There are various offshore countries from which to pick, each with its own set of challenges and benefits. You should try to pick locations closer to your culture and time zone, but you should also think about developers who can provide you with the best price-quality ratio. Let's take a look at some of the different locations where development teams can be outsourced.
Eastern Europe
Due to its cost-effectiveness, rising skill pool, and quickly evolving IT industry, Eastern Europe has gained a reputation as a reputable IT outsourcing destination.
More than a million software developers live in this region, with more than fifty thousand ICT graduates joining the industry each year. In Eastern Europe, the two nations with the greatest number of software developers are Poland and Ukraine.
Latin America
In this region, Argentina, Brazil, and Mexico are the finest choices for software development outsourcing. Chile, however, has exhibited strong market growth, ranking 27th among the world's most competent professional developers in the HackerRank ranking.
Asia
There are almost four million software developers in Asia. The top three nations with the most developers are the Philippines, China, and India. With over two and a half million developers, India leads the way, followed by China and the Philippines with 590,000 and 190,000 developers, respectively.
The Offshore Development Models to Choose From
There are two main approaches to offshore software development. The specialist model and project-based outsourcing are the two options. Identifying which model is best for your project is the first step in learning how to effectively outsource software development.
1. The Specialist Model
To fill the skills gap, many organizations that lack in-house software engineers use remote programmers. Staff augmentation is the term for this. The period can be long or short. The company requiring offshore software developers hires a lead developer or project manager to supervise the project, while the development shop provides the developers.
2. Project-Based Outsourcing
When a client engages a team of developers for a brief period, such as a one-time project, this is known as project-based outsourcing. The goal is to get things done quickly, and the compensation rate is usually fixed.
Tips for Hiring Offshore Software Developers for Your Team
To build a thriving offshore team and recruit a world-class team of software developers, you must follow the proper steps. Here are some pointers for creating a foolproof hiring process.
1. Clearly Define Your Requirements
To establish how to outsource your job, you must first define what you want. This is a no-brainer, but many people don't take it seriously enough.
What kind of app would you like to create? What kind of programmers would you require? What abilities are required of them? What kind of infrastructure will the project necessitate? When do you think you'll be able to sell your product? What are the quality standards? What method will you use to evaluate the product? What is your budget proposal? What contingency plans do you have in place?
These and many other issues must be addressed before you start looking for developers if you want to effectively outsource software development.
Your list of requirements and objectives should be as comprehensive as possible, including every facet of the project. You must also be able to distinguish between what is required and what is optional. To put it another way, you must prioritize.
Every decision you make now should help you see the desired outcome of the project. How you need to hire offshore software developers will be based on this insight.
2. Define Your Budget
It does not make sense to hire a developer if their compensation rates aren't in line with your budget. When discussing the project's cost, make sure the agency specifies which essential services are covered by the overall price and which ones are not. One of the main reasons organizations outsource is to reap the benefits of the offshore agency's superior infrastructure, which they lack.
As a result, the overall cost must account for the expense of utilizing the agency's infrastructure. Instead of focusing on cheap quotations, you should concentrate on the most cost-effective options. If you choose low prices, you may have to pay a large sum after the project because you will have to get the badly written codes rewritten.
While you should not choose the cheapest agency, price does not always imply excellence. The money requested by an agency must equal not only the services provided but also the value delivered.
3. Perform Technical Tests
You see, you're looking for a technical partner, and there are millions, if not billions, of them to choose from. It is recommended to evaluate a team of offshore software developers on technical grounds before hiring them. After all, you want a tech partner who knows how to use cutting-edge technology.
Even if you aren't technical, you can get help from sites like Codilty or Hackerrank. These coding tools are available online and can be used to demonstrate the skills of your prospective offshore development partner.
The results of these tests are usually displayed in real-time. Make your preferred offshore development team run these tests and see how they deal with blockages, how they document processes, and so on. Most importantly, don't pick the one who gives up easily.
4. Evaluate Communication Skills
Another thing to think about is the soft skills of your remote workforce. Yes, even if you're looking for tech-savvy geeks, you'll need someone who can communicate in English. The importance of effective communication cannot be overstated. As you can see, even a minor hiccup in the process can wreak havoc on the entire operation.
Aside from communication abilities, keep a close eye on your offshore developer's attitude. Yes, pay attention to how they react in stressful situations.
Are they flexible in their approach to new and evolving situations, or are they set in their ways? Before making a decision, it's critical to think about their problem-solving approach and communication skills.
5. Look For Experience with Similar Projects
This is self-evident; if you're investing so much time, money, and effort, it's only natural that you'll settle for nothing less than the best. Besides having a thorough understanding of the current software development market, the offshore software developers you hire must have a great deal of competence and experience to complete your project successfully.
When outsourcing business processes, it's best to hire programmers who have experience with projects similar to yours.
Final Word
The competition appears to be intense, and it appears to be a case of now or never. So, what do you have to lose? It's time to do some preliminary research. It's time to think about hiring a reputable offshore development firm with a team of offshore developers who are not just smart, but also well-versed and experienced in completing projects to meet your key business needs in a short period.
If you want to work with an offshore development team, you can utilize the tips listed above to find the finest team. Your development costs will be reduced, and the value of your software will be improved with such a team of offshore developers.