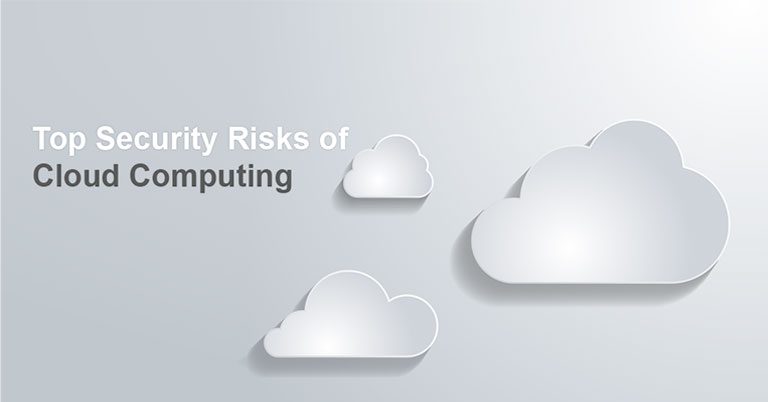 Understanding the Top Security Risks of Cloud Computing
Cloud computing brings a ton of benefits for businesses in the digital age today. Large businesses and digital startups alike can benefit from the feasibility offered by cloud computing. Cloud computing can enable cost reduction, improve optimization and lead to enhanced agility across the board.
However, despite the benefits that it has to offer, cloud computing comes with certain risks as well. Once you handle these risks, you will be able to best extract the benefits on offer and get the best results possible.
In this article, we take a look at some of the most common security risks that you will see with cloud computing. We will also cover other information related to these risks and will provide some background info as well.
Why Do You Need to Understand Cloud Computing Risks?
There are multiple reasons why it is necessary for you to understand the risks associated with cloud computing. If you plan to migrate to cloud computing, it is highly necessary that you understand the risks on offer, and work with them in mind to achieve the results you want.
Some of the stats related to cyber security risk include:
More than 50% of enterprises report cloud-based services as the catalyst for public key infrastructure deployment and usage growth increases.
In a 12-month timeframe, organizations lost ~$6.2 million to cloud account compromises.
60% of infrastructure and operations (I&O) leaders are likely to experience budget-related issues on account of public cloud cost overruns.
31% of organizations continue to spend over $50 million on cloud infrastructure annually.
98% of enterprises have contended with a cloud security breach in the last 18 months, according to a study of 200 CISOs and security decision-makers.
72% of information security leaders state that cloud computing represents a top digital transformation priority.
Top Cloud Computing Security Risks
Below we understand some of the most concerning cloud security risks that organizations should have in mind in the global environment today.
Poor Access Management; Access management is by far the biggest concern for cloud security providers today. Accessing information is important for all stakeholders, which is why it is necessary that providers restrict access as well, and make sure that there are no foreign breaches involved.
Data Loss: Data loss is another important security risk associated with cloud computing. Data loss comes through malware or other threat attacks. Additionally, data stolen from cloud computing sources is then auctioned in the dark web.
Insecure API: Insecure API can also lead to significant problems and security risks in cloud computing. Insecure API can lead problems associated with accessibility and can stop the access provided to key stakeholders.
Data Breaches: As we have briefly discussed above as well, data breaches are a great area of concern for organizations today. Data breaches can lead to problems in data access and security and can impact the integrity of an organization.
Cloud Misconfiguration: Cloud misconfiguration takes place when an enterprise fails to set up the cloud system correctly. The lack of configuration can make the system vulnerable and lead to a plethora of attacks as well.
Poor Due Diligence: The lack of due diligence is another reason why cloud computing is host to security risks. The transition from legacy systems to the cloud often requires strict adherence to cyber security protocols. Failure to protect all endpoints can lead to openings that threat actors can exploit.
Malware Infections: Malware infections are quite common in cloud computing and are mostly exploited through phishing attacks. A malware that enters through one system can spread through the network and attack all related data.
Top Practices to Mitigate Cloud Technology Security Risks
Although there is no one-size-fits-all approach that organizations can employ here, there are certain practices they can follow to mitigate the security risks of cloud technology.
These practices include:
DevOps Process: The use of reliable DevOps processes can help you improve the quality of code and also eliminate the chances of vulnerabilities being exploited by threat actors.
Automated Operations: Adding automation to the mix can improve overall security and can also lead to better results. Automated software solutions can speed up results and reduce errors.
Rules Compliance: All organizations need compliance policies that ensure just how employees pass data and interact with it. Organizations also need to se a framework they can follow religiously.
Blockchain Integration: Integration with blockchain technology will help organizations enjoy the benefits of cloud computing and also eliminate the chances of data theft. Blockchain technology is known to be the future of data security and will provide a great mechanism for future growth and tech prowess.
Unified Control: Unified control can incorporate a centralized style of management, where a single organization is tasked with overseeing the process and all that comes under it. The unified control mechanism will help streamline operations and improve outputs.
Regular Audit: It is highly crucial for organizations to regularly check their IT and cloud computing solutions for malware attacks. The three areas to be continuously audited include access to audit reports, internal access for vendors and security within cloud servers.
With these steps, operators from different industries can enjoy the benefits of cloud computing and the different ways through which they can improve efficiency and security.
Knowing the major security risks associated with cloud computing, you can formulate a strategy to keep the risks at bay and maintain cyber security.