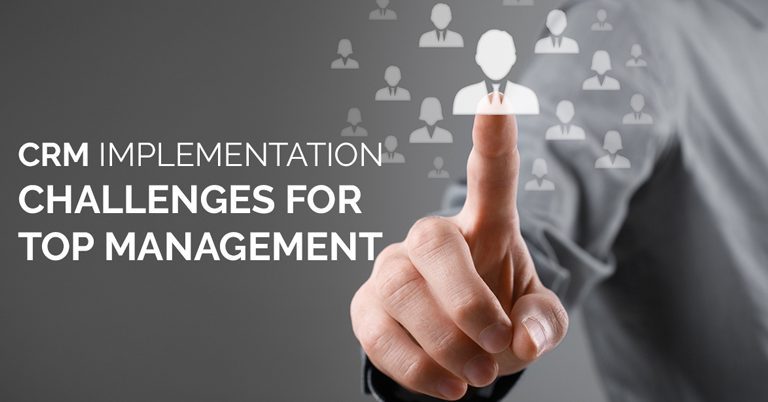 The Top Challenges of CRM Implementation and How to Overcome Them
Most organizations often have to deal with the cumbersome process of implement CRM projects on their own and can run into challenges here. CRM systems can be implemented by following a number of steps, including moving to a new software, handling data security, finding the right solution, adapting to the new changes and managing your budget.
In this article, we take a look at some of the top challenges that organizations face with CRM implementation, and what can be done to overcome them. Go through this article to identify challenges and to find ways to move past them.
Convincing People to Change
Most organizations assume technology to be the primary challenge involving Software integration, but that isn't true. The technology is intimidating in its right, but the biggest challenge comes from people who want to escape the change that comes with a new CRM system.
If you are a startup that just started operations, you will find moving to a CRM easier than most. However, if you have been in operations for a significant time and have older staff members, your move to a unified CRM will be plagued by complications and difficulties. Old habits die hard for people, and your organization will have a hard time moving on from CRM complications.
While some people do accept change, there are many who are reluctant to it and will not accept it with open arms. For the transition to be successful, managers and team leads should look to build a culture that relies on digital innovation and learning. You should also look to unify team members together and make sure that everyone is helping each other in the move. Employees that have a hard time understanding the change can be assisted by others around them.
Getting Management Approval
Even if you get approval from your team members and solve their problems, you should be prepared for resistance you might face from the top management. Getting top management approval is another very important problem of CRM implementation.
The corporate management can have issues with pricing, technology revolution and the disruptions that might happen during the transition process. To make sure that your top management is on board with you for the implementation, you should explain to them just how the change is going to produce tangible value for the organization as far as finances, revenues and growth are concerned.
You should also put the case of competitive advantage and let them know what you will be missing out on, knowing that there are competing brands in the market that have already made a transition to the CRM. You don't want to miss out on tech updates and should instead step on the bandwagon in time to make a difference.
Handling Data Security
The Big Data industry is rapidly growing around us and is expected to grow further to reach a total market cap of $77 billion by the end of 2023. Knowing the growing value of data, your organizational data should be of extreme value to you, and you should look to safeguard it through the right motives.
Moving to a CRM will require changing your data reserves and moving them to the cloud. This entire transition comes with its own perils, as a move to the cloud can be plagued with errors and data security risks.
Data security comes down to your choice of the right CRM platform. A good CRM system will keep all data protected and will ensure that there is no relevant detail missing. You will ideally prefer a unified CRM system that is intuitive in nature and easy to operate. Data is an integral resource for businesses today, and you can tap into it for the right results.
Leaving Comfortable Processes Behind
Moving to a cloud-based CRM is all about disrupting your way of doing things and moving out of your comfort zone. Implementing a CRM solution can potentially disrupt and disturb your key processes. Besides the normal issues of change, you will also feel like you are leaving comfortable processes behind you.
You can integrate all of the tools below with your CRM connection:
Asana
ClickUp
Google Analytics
Google Docs
Google Sheets
Gmail
HubSpot
Mailchimp
Microsoft Office
Salesforce
Shopify
Slack
Sumo
WooCommerce
Read : Top Software Integration Tools
Cost and Time of CRM Implementation
CRM implementations can take a lot of time and cost. The digital and data revolution does not take place overnight, which is why you have to have sufficient cost and time available for it to succeed. People need to acclimatize themselves to the new CRM solution, which is why you should give them enough time to do so.
The cost of the CRM implementation can also go off track if you have set a minimal budget. Sit down with experts from the industry and talk over what a possible budget would be for you. Once you have set a budget, you can move towards following it for your digital transformation.
Always remember to keep your long-term business goals in mind when you set your budget for the implementation. Don't go overboard with the costs, as you need to be prepared for cloud maintenance costs as well.
Implementing a CRM solution is no mean feat. You will face some challenges in the way, but you should be prepared to overcome them in whatever way you can. We hope the directions here helped.