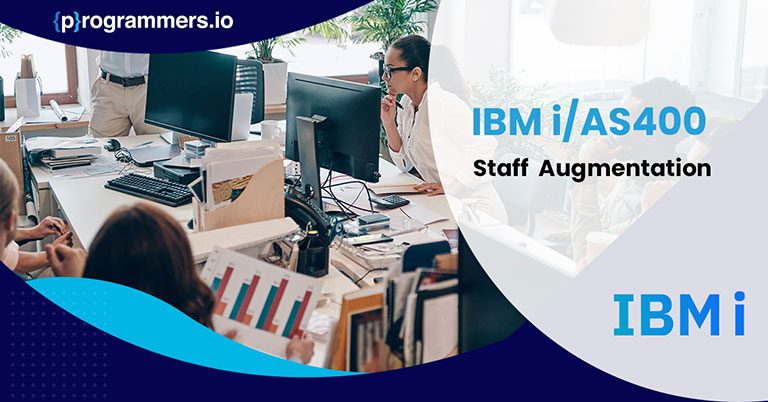 How IBM i/As400 Staff Augmentation Can Benefit Your Business
A business can swiftly acquire the employees it needs for a project by using staff augmentation, a type of outsourcing. As the name suggests, it is the process of putting together an external team to support your internal staff.
Companies can increase output using staff augmentation rather than by hiring full-time employees. Additionally, it enables your personnel to concentrate on crucial business processes while hired help handles the rest.
You will regularly partner with a staff augmentation service to implement a staff augmentation strategy at your organization. This provider will offer you a qualified team to work with throughout your project. Your expectations will influence how many employees you hire and how long they work for you. Staff augmentation for IBMi/as400 benefits many businesses today, and you can get the same benefits by going for the same option.
What Makes Staff Augmentation So Useful?
By maintaining a flexible staff, employers can achieve strategic cost savings through temporary staffing. Temporary workers will be made available by the staff augmentation providers in accordance with the contract or if an urgent need arises. The most critical benefits of staff augmentation for IBMi/As400 include the following:
As you hire previously trained individuals from outside, you can reduce the cost of staff training.
No obligation to assume any liability for hired personnel
Paying bonuses, medical insurance, and other benefits is not required.
You have the power to change the size of the team as you see fit.
Because they are not permanent staff, your team won't feel uneasy.
Essentially, there is never an employee vs. contractor situation.
Is IT Staff Augmentation, Managed IT Services, and Project Outsourcing the Same?
Before diving into the benefits of staff augmentation for IBMi/as400, it is important to understand the difference between IT staff augmentation, IT managed services, and project outsourcing.
These three terms are frequently misunderstood and confused by one another. However, they are very dissimilar. In managed IT services, the team is managed by the o,utsourcing firm, whereas with staff augmentation, the end customer is in charge of the team. So a project manager is the one who establishes the distinction between these two.
There is no need to employ managed services if a client organization is eligible for the technology management team. However, managed services are the ideal choice if they cannot manage distant resources.
When a project is outsourced, the outsourcing company takes on the role of a "third party" and completes a specified range of activities on behalf of the client company. And the corporation that entirely outsourced its project depends on a different business to accomplish it.
Project outsourcing is similar to entering into a contract with a company to complete their work. However, with staff augmentation, businesses can engage a number of experts from many industries to accomplish their projects on schedule.
The Benefits of Staff Augmentation for IBMi/As400
Project outsourcing and staff augmentation have their benefits, but for project-based businesses that are forever evolving, the latter is typically the best choice. With IBMi/as400 staff augmentation, businesses can use outsourced talent as required while maintaining direct control over employees.
1. Fill Gaps in the Workforce
One of the numerous benefits of IBMi/as400 staff augmentation is the ability to hire based on demand. If you have voids in your IBMi/as400 staff that need to be covered, it can be a very helpful strategy for growing your IT team.
Depending on your demands, staff augmentation enables you to hire technical talent from around the globe and add competent technical staff to your own development team.
2. Get Increased Control over Operations
By offering you complete control over the activities, staff augmentation helps you to have an overall perspective of an entire project. You will be informed of who is engaged in the most important tasks and who is doing the mundane office job if you are a project manager.
3. Maintain Control over Current Staff
The opportunity to maintain control over your existing employees is another important benefit of employing IBMi/as400 staff augmentation. When you assign your work to a service provider, you are basically giving it to strangers.
On the other hand, staff augmentation enables you to work with a temporary workforce. You choose who will be the project's leader and what will be given priority.
By opting for staff augmentation over the other options, you can also avoid some jurisdictional concerns. If you are outsourcing, you might have to give the keys to someone in another country or part of the world. This could be annoying, particularly if you work in different time zones. Since your workforce will be on-site when you employ staff augmentation, you won't have to think about location.
4. Save Time and Costs
IBMi/as400 staff augmentation can also save your management a tremendous amount of time. It takes time to create job advertisements, conduct interviews, and finish the required documentation when
hiring full-time employees. By avoiding the need to hire new employees, you can save time.
Also, you'll pay more if you hire them full-time. By using staff augmentation, you can avoid this situation and recruit programmers or architects in accordance with the needs of the project.
5. Managing the Augmented Staff Will Not Be the Responsibility
The enhanced Staff is ultimately managed by the parent firm. This implies that the parent firm will take care of any operational issues or if they abandon your assignments in the middle of a project.
6. Ensure Flexible IBMi/As400 with Programmers.io
For our varied client groups, Programmers.io is the ideal staffing partner. Programmers.io has worked on projects with various specifications and levels of complexity thanks to the tremendous rise in utilization of IBM AS400 iSeries services. You can find more about the AS400/IBMi programming services of Programmers.io and how they can benefit your business here.